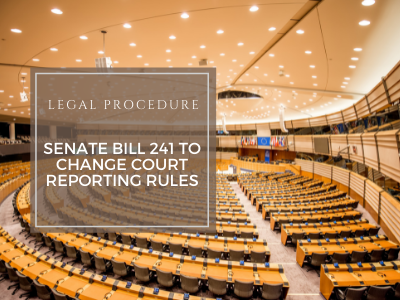 SENATE BILL 241 – CIVIL ACTIONS
"2021 California Court Efficiency Act"
Published June 10, 2021
Introduced by Senator Thomas Umberg
Sponsored by the California Defense Council and Consumer Attorneys of California.
Supported by: Court Reporters Board of California, Deposition Reporters Association of California, and the National Court Reporters Association.
Opposed by: California Court Reporters Association, SEIU California, Protect Your Record Project, and three individuals.
Amends and adds Business and Professions Code, section 8050.
Adds Business and Professions Code, section 8051.
Amends Code of Civil Procedure, section 1010.6.
Adds Code of Civil Procedure, section 367.8.
Adds Probate Code, section 3505.
Primary affects:
Permits out-of-state entities to register with and be governed by the Court Reporters Board (CRB), and must designate a board-certified reporter-in-charge; and
Permits witnesses to testify in court remotely via audiovisual technology, but only under certain circumstances.
Highlights:
Increase efficiency in courts due to COVID.
Expand CRB's authority regarding certification and regulation of out-of-state court reporters.
CRB will provide a directory of registered entities on its website.
Witnesses will be allowed to appear and give testimony by remote electronic means like WebX and Zoom.
Witnesses may appear remotely for trials or hearings on motions.
Court authorization required.
Factors considered for remote appearances by witnesses are:

Is it critical or necessary?
Would it materially prejudice one or more parties?
Does the witness reside more than 100 miles from the venue?
If required to appear in person, would that make it impossible, difficult, or pose a risk to the witness's health or safety?
Click here to see more in-depth information on this bill.
Categorized in: Legal Procedure