Below you will find information on upcoming conferences, classes and webinars.
Also check out our Local Association Events page for events running at your local LSA or LPA.
Webinar – Insurance Fraud – A Billion Dollar Business – November 18, 2021 – LSS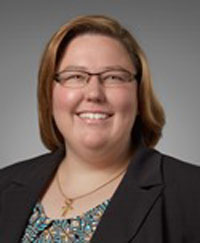 12:00-1:00PM
Speaker: Tamara Martin, Esq., Deputy District Attorney, San Diego District Attorney's Office's Insurance Fraud and Workplace Justice Division
This presentation will focus on various insurance fraud and labor code related offenses, including workers' compensation fraud, disability and healthcare fraud, life insurance and annuity fraud, and auto insurance fraud, as well as wage theft, tax evasion, unfair business practices and labor trafficking. Topics covered will include red flags to watch out for and what to do if you suspect fraud.
Tamara Martin has been a Deputy District Attorney with the San Diego District Attorney's Office's Insurance Fraud and Workplace Justice Division for over six years. During that time, she has become an expert in the prosecution of insurance fraud and companion crimes such as tax evasion, money laundering and wage theft. Ms. Martin also prosecutes healthcare fraud, including billing fraud and the receipt/payment of kickbacks for referrals. She was a primary prosecutor for Operation Backlash, which was the biggest healthcare fraud prosecution in San Diego County history. Prior to her criminal law career, Ms. Martin worked as a case assistant in the area of Insurance/Bad Faith defense for almost a decade and a civil employment litigation attorney for two years.
Registration is closed.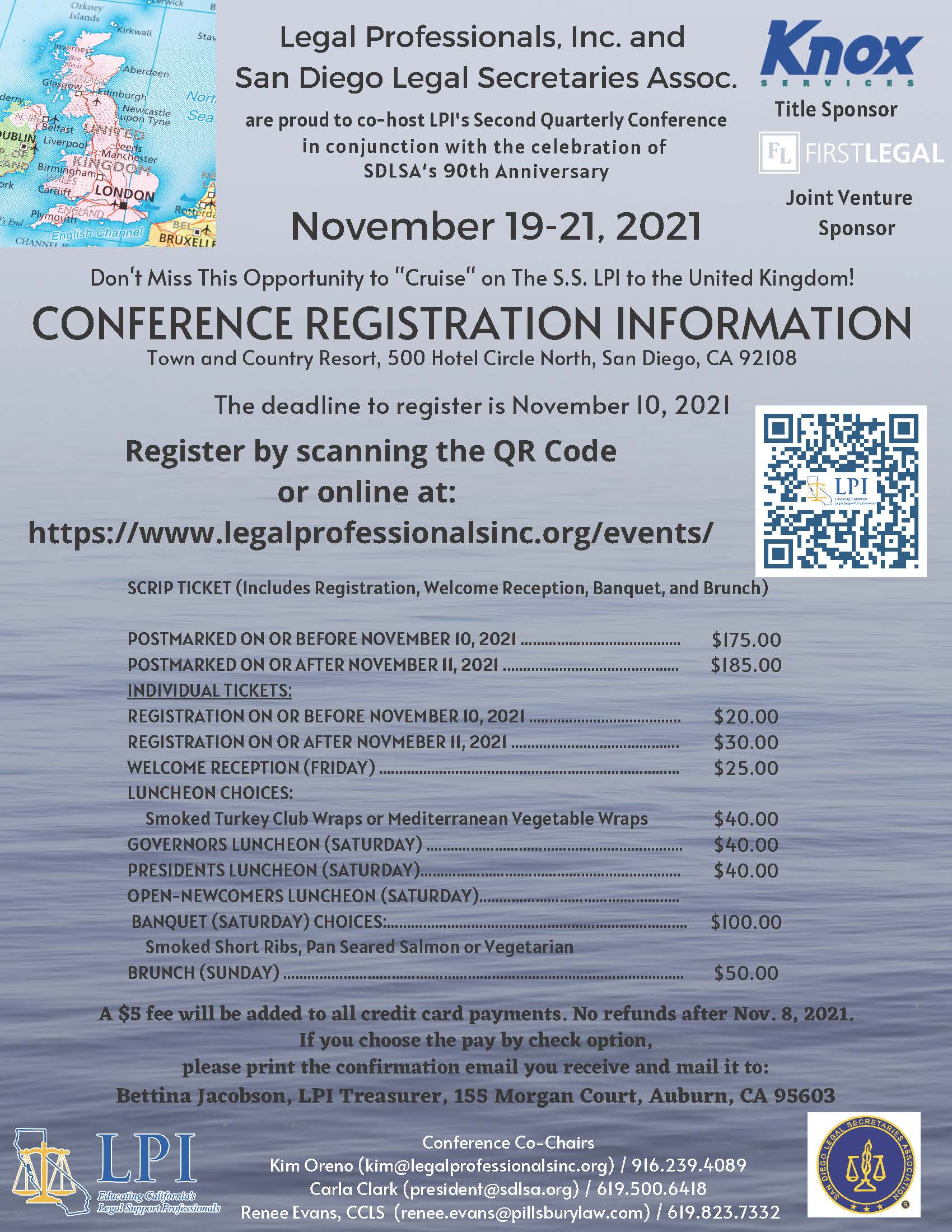 Location:
Town and Country Resort
500 Hotel Circle North
San Diego, CA 92108
Official Notice
Legal Professionals, Inc. and San Diego Legal Secretaries Association are proud to co-host LPI's Second Quarterly Conference in conjunction with the celebration of SDLSA's 90th Anniversary
Don't Miss This Opportunity To "Cruise" on The S.S. LPI to the United Kingdom!
A full Scrip ticket – is $175 and it includes all of the below events except for the optional Saturday lunch. The price increases to $185 after November 11, 2021.
Individual Pricing:
Registration – $20.00 (after November 11, 2021 price increases by $10.00)
Friday Night Reception – $25.00
Saturday Lunch – $40.00
Saturday Dinner – $ 100.00
Sunday Brunch – $50.00
All online registrations include a $3.00 convenience fee.
Sponsored by:
Sponsors
Click here for the printable registration form.
Registration is closed.
Legal Specialization Sections – November 20, 2021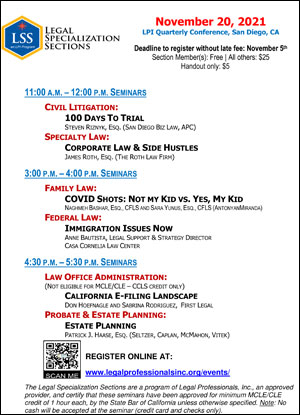 Town and Country Resort
500 Hotel Circle North
San Diego, CA 92108
Registration is closed.
Hotel Information
Town and Country Resort
500 Hotel Circle North
San Diego, CA 92108
Reservations – 800-772-8527
Group Code: LPI
https://book.passkey.com/e/50239257
Singe/Double – $145
Triple – $165
Quadruple – $185
Parking: $10/day
(Plus applicable taxes and fees)
Check in: 4:00 p.m. / Check out: 11:00 a.m.
Deadline to reserve your room is November 4, 2021. No room rate guarantee after this date!
Your reservation includes wireless internet access, in-room coffee, in-room safes, in-room refrigerators, unlimited access to the fitness center, and complimentary use of business center.
The Town and Country Resort is located in Mission Valley, only 7 miles from San Diego International Airport, 10 minutes from SeaWorld, San Diego Zoo, sparkling beaches, bays, and the most convenient location to all city sites and attractions such as the San Diego Safari Park, Old Town, La Jolla, Gaslamp Quarter, LEGOLAND, SDCCU Stadium, PETCO Park (Padres), Balboa Park, and Cabrillo National Monument. There is also a 3.3 acre park with walking trails on site and a Pedestrian bridge to Fashion Valley Mall.
Need more info? Contact one of the following Conference Co-Chairs:
Kim Oreno (kim@legalprofessionalsinc.org) / 916-239-4089
Carla Clark (president@sdlsa.org) / 619-500-6418
Renee Evans (renee.evans@pillsburylaw.com) / 619-823-7332
Webinar – Investing Basics: Five Steps to Building a Disciplined Investment Strategy – December 2, 2021
12:00-1:00PM
Location: Zoom link will be provided at a later time
Presented by Charles Hamilton, Wealth Manager / Growth & Development Director
Charles Hamilton is a Financial Advisor and Development Director with Northwestern Mutual. He is an active networker and community member, involved in the LA5 Rotary and the Los Angeles World Affairs Council & Town Hall to name a few.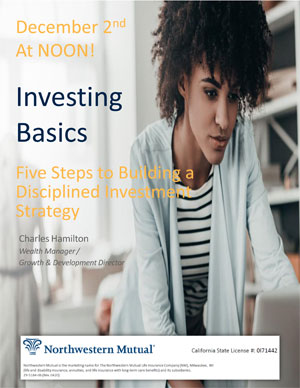 EYE ON LPI – Holiday Edition – December 6, 2021 – FREE!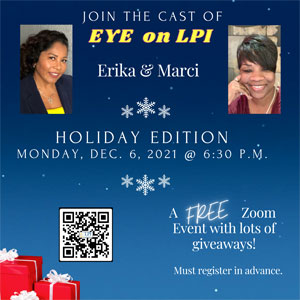 Free for everyone!

Date: Monday, December 6, 2021
Time: 6:30PM
Location: Zoom link will be provided at a later time
Would you like to donate to the game prizes? If so, please send us an email.
Notice of Appeal: What Should Be On Your Checklist – December 10, 2021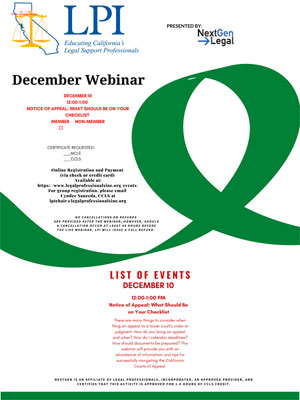 12:00-1:00 p.m. – Pacific Time
There are many things to consider when filing an appeal to a lower court's order or judgment. How do you bring an appeal and when? How do I calendar deadlines? How should documents be prepared? This webinar will provide you with an abundance of information and tips for successfully navigating the California Courts of Appeal.
Presented by:

NextGen is an affiliate of Legal Professionals, Incorporated, an approved provider, and certifies that this activity has been approved for minimum continuing education credit by the State Bar of California in the amount of 1.0 hours. This activity is approved for 1.0 hours of CLE/MCLE and CCLS credit.
Register no later than December 8, 2021
The Evolving Landscape of Litigation Support Service Providers – December 16, 2021 – CEC
12:00-1:00PM
Presented by: Vanessa Valdez Dalton & Joshua Jones
Innovative thinking and technology are bifurcating the litigation support service provider landscape into one that is distinguishing strategic partners from transactional vendors. For law firms to reap the strategic advantages litigation support service providers can offer them, they must be able to discern and select a strategic partner. The differences that legitimately separate strategic partners from the field of transactional vendors may not be readily apparent on the surface. We explore key considerations between a strategic partner and a transactional vendor, why it is important, what to look for and avoid, and how to best leverage a strategic partner in litigation support services to gain maximum value for your firm.
Webinar – What Do We Want? Ethics Credits! How Do We Get It? A Webinar! – January 6, 2022 – LSS
12:00-1:00PM
Presented by: Jeanine DeBacker, Esq., McPharlin Sprinkles & Thomas LLP
Now that many of us are returning to the office in 2022, we all need a little refresher in Ethics! Who better to give us this refresher than employment law attorney and experienced speaker, Jeanine DeBacker, who keeps us all current with the ever-changing laws in her blog, California Employment Law Blog!
Jeanine DeBacker defends employers in litigation and uses her courtroom experience to help employers prevent lawsuits. Jeanine advises employers of all sizes and in all industries on a daily basis on personnel matters. She also trains managers and employees and conducts prompt workplace investigations.
Jeanine represents clients throughout the South Bay and Central Coast. She works to provide periodic updates on employment law matters important to employers at calemploymentlawblog.com.
The webinar link and call-in information will be sent to you the day before the webinar.
Price goes up $5.00 after December 23, 2021.
Registration closes on December 30, 2021.
Webinar – Emoji and eDiscovery – How to Mitigate Risky Business – January 13, 2022 – LSS
12:00-1:00PM
Presented by: Matt Mahon, CEDS, IGP, Certified e-Discovery Specialist
The percentage of the connected population utilizing emoji in the workplace has increased from 33% in 2016 to 77% today. More than 26 million custom emoji have been created in Slack and the use of emoji in Teams is universal, revolutionizing the way we communicate. Inevitably these communications are discoverable and require review for relevance and production. This session gives an overview of the challenges and risks associated with emoji (including case law) and provides practical solutions for the problems emoji present.
Matt Mahon has 15 years of experience supporting organizations with information governance and eDiscovery strategies including litigation hold, preservation, collection, data processing, review and production. Matt delivers CLE presentations, and is a frequent speaker and writer on topics including emoji, internet of things, information governance and eDiscovery. Matt earned his B.A. in Mathematics and Applied Sciences from UC San Diego and is certified as an eDiscovery Specialist and Information Governance Professional.
Webinar – The Remote World is Here to Stay: Are you Prepared? – January 27, 2022 – LSS
12:00-1:00PM
Presented by: Mike Tisa
During the pandemic, technology skyrocketed in order to continue the practice of law while keeping people safe. Now that we have become accustomed to many of the benefits it brought and money that was saved, it is not going away. Learn how to prepare and succeed in this new world to stay ahead of the game in the legal field.
Mike Tisa is a Senior Strategist and Trial Presentation Consultant. Mike brings extensive and in-depth knowledge about litigation technology, from court reporting, videography, text/video streaming, day-in-the-life videos and graphics to senior management and the hot seat. A charter member of the NCRA Trial Presentation Professional Certificate Program, Mike's trial tech experience includes employment, patent, personal injury, asbestos, estate and premises liability.
Mike has been a Director of Litigation Technology for a San Diego-based court reporting company for almost 10 years and has been in video technology for 20 years. Mike understands the ins and outs of trial and always strives to make his clients look their absolute best in the courtroom. His webinars during the COVID-19 pandemic were instrumental in helping the industry transition to remote platforms to conduct depositions, arbitrations and trials.
Mike attended the University of Missouri and earned a Bachelor of Journalism degree with an emphasis in Broadcast News. He holds minors in business administration and sociology. Mike has presented at two NCRA conferences and guest lectured at UC San Diego and California Western School of Law. Mike is also active in the legal community, assisting with projects for the Federal Bar Association, Inns of Court, San Diego County Bar Association, San Diego La Raza Lawyers Association, San Diego Paralegal Association and the San Diego Law Library.
Mike also has one of the most fantastic side hustles, working for the San Diego Padres as a camera operator. A colossal baseball enthusiast, he's been to all 30 Major League Baseball parks!
The webinar link and call-in information will be sent to you the day before the webinar.
Price goes up $5.00 after January 13, 2022.
Registration closes on January 20, 2022.
Third Quarterly Conference – February 25-27, 2022
Location: Stockton Hilton, Stockton, CA
Hosted by LPI
More info TBA