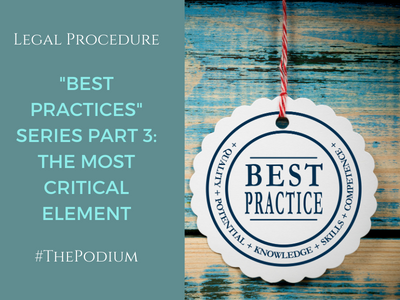 We all know that legal procedure – – understanding the requirements of the California codes, rules of court, local rules, and how to properly format and file legal documents – – is critical to what we do.  Without these specialized skills and education, we would not be able to properly represent our clients or have a very successful legal practice.
But that's just half of the picture.  Being on top of legal procedure and knowing the ins and outs of legal strategy don't mean much without the other half of the picture – – the most critical element – – the clients.  Outlined below are some suggestions for best practices when dealing with the most important part of the practice of law.
Be Available to Your Clients
This may seem obvious, but not everyone practices the obvious. ABA Model Rule 1.3 requires that "[a] lawyer shall act with reasonable diligence and promptness in representing a client."  What does that really mean though?  In the context of trying to best represent clients, it means that you do a thorough job, that you communicate early and often, that you return phone calls and emails, and that you're actually nice to your clients when you interact with them.  These may seem like basic things, but haven't we all seen attorneys and staff who don't do them?
Give Them Something to Brag About
It's sometimes easy to theorize that the reason some people pay the exorbitant prices charged by mega-firms is simply that they get to brag that they're represented by a name-brand entity.  Most law practitioners don't have that luxury, but that's okay.  Give your clients even better reasons to brag about your office.
Maybe it is a string of recent trial victories, but it could just as easily be your office's charitable works or your good deeds in the community.  You can earn professional accolades, cultivate media mentions, and build your reputation as a sought-after specialist.  Regardless of why you're great, share that greatness with your clients – with humility, of course – and allow them to be proud that you are the one representing them.
Ask Your Clients About Their Experiences With Other Law Offices
There wouldn't be a million lawyer jokes if lawyers weren't such easy targets.  Your client picked your office for a reason. Why not ask them what their reasoning is during the client onboarding process?  Specifically, ask them what their experiences were with prior lawyers and really listen to their answers. Then, as you absorb all the reasons they were unhappy with (or very happy with) previous law firms, take notes about those things so you can build a better office-client relationship. Your clients will be grateful for your insistence on doing a better job, and you'll collect valuable knowledge that helps you build a sharper competitive advantage.
Be Great at What You Do
It is really tempting to try and be a jack of all trades or "office of all trades;" i.e., to take any client with any legal problem, regardless of your experience with the issue.  That said, if you have a passion for a particular practice area, try to do that.  Be the best at that.  Be a thought leader in that discipline.  That way, when clients (or potential clients) come to your office with a question, you can quickly and confidently give them an answer.  Clients love confidence, and you can more easily build a reputation as an outstanding practice in a specific area that you excel in.
Study Client Management
Lawyers, like many professionals, have a tendency to focus solely on their craft.  If you're a real estate attorney, for example, you may join the real estate section of your local bar association, attend conferences centered on real estate law, and diligently watch case developments that impact your practice.  Those are all great things to do and they are important for client relationships because they make for a better practice. That said, don't forget that client management is a distinct part of a good law firm's practice.
It's not just legal competence that makes you great.  Make it a priority to build your office's skills in customer service, communication, conflict de-escalation, public speaking, and any other business and people skills used regularly.  This kind of extra polish helps your firm stand out in all the right ways.
Make Sure Everyone in the Office Understands the Importance of Client Management
If you're going to commit to being a great client manager and offering superb customer service to your clients, make sure everyone who works in the office has that same ethic.  If not, all your efforts at client management can be lost through one unfortunate interaction.  Remember that clients don't typically know the difference between work done by a staff member or an attorney.  It all reflects on the office and specifically, directly on the lawyer.
Set Reasonable Expectations
Perhaps above all, the best thing a law office can do in terms of client relations is to simply meet the client's expectations.  If you say something is going to be done by a certain date, do it by then.  If you tell them you're going to call at a certain time, call at that time.  When clients know that they can trust their expectations of you, they will become more relaxed and much easier to work with.
It's All Worth It
Clients can be difficult.  They can be demanding.  They can sometimes be unreasonable.  But, at the end of the day, they are the reason we're able to put food on the table. Looked at in that light, isn't it worth some extra time and effort on your part to make sure their experience with your office is a good one?  Best practices exist to help you, the people you work with and do business with, as well as the legal community you serve.  Remember what led you to do this thing we call "the law," and remember that it's all worth it.
Did you miss the first two parts of the series?  
Part 1 – Preparation of Pleadings
Part 2 – Document and File Management
Categorized in: Legal Procedure