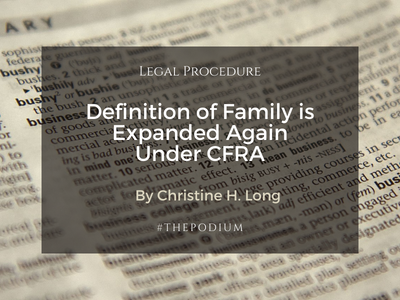 By Christine H. Long
Bio: Ms. Long is a partner and department chair of the labor and employment law group at Berliner Cohen, LLP. She can be reached by phone at 408.286.5800 and via email at christine.long@berliner.com.
—–
California has been steadily redefining the definition of family under the California Family Rights Act and the California's Healthy Workplaces Healthy Families Act (HWHFA) over the last three years. In the last three years, CFRA was amended to expand who is eligible for leave while removing Key Employee designation rights for employers.
Starting January 1, 2023, the definition of "family member" will change under the California Family Rights Act (CFRA) and California's Healthy Workplaces Healthy Families Act (HWHFA) to include a "designated person." The law is meant to address the changing definition of family as it relates to providing care to individuals.
Under both the amended CFRA and HWHFA, employees will be able to identify a designated person for whom they want to use leave when they request unpaid (CFRA) or paid (HWHFA) leave.  Further, under both amended laws, employers will be able to limit an employee to one designated person per 12-month period. How these laws will each define designated person, however, differs slightly.
Under the CFRA, a designated person will mean "any individual related by blood or whose association with the employee is the equivalent of a family relationship." Under the HWHFA, however, a designated person is "a person identified by the employee at the time the employee requests paid sick days" – the individual need not be related by blood to the employee, and their association need not be the equivalent of a family relationship. Employers will have to await guidance from California's Labor Commissioner, but it is expected a designated person for HWHFA purposes possibly might include a roommate, a new romantic partner, or even a close friend.
The designated-person changes will affect how employers comply with similar federal, state, and/or local leave laws. As we have previously explained, while caring for the roommate may not be covered under FMLA, it could be covered under FMLA, meaning that an employer may have to grant multiple leaves in a given year, whereas previously they could have run them concurrently.
CFRA & FMLA: CFRA now applies to employers with five or more employees (as compared to 50 or more employees under FMLA). Under CFRA eligible employees can use unpaid leave is to care for a family member which CFRA defines more broadly than the federal Family and Medical Leave Act (FMLA). For example, though both the FMLA and CFRA consider a child, parent, and spouse to be a family member, the CFRA additionally considers a family member to include a domestic partner, grandchild, grandparent, and sibling, and now as amended a designated person.
CFRA & Paid Family Leave: The amended CFRA definition also will differ from the CA Paid Family Leave program, which allows eligible individuals to receive PFL wage replacement benefits from the state when they need to care for a child, parent, grandparent, grandchild, sibling, spouse, or domestic partner who has a serious health condition. Remember that an employer grants the time off, the state determines who gets paid for that time off. PFL provides up to eight weeks of wage replacement benefits in a 12-month period for covered uses, which does not include a designated person. This means that an employer may have to grant unpaid leave, but the state may not need to pay benefits for the time off.
HWHFA & Local Ordinances: California's HWHFA applies to all employers regardless of size. Under the HWHFA, employees can use paid leave, and the law requires employers to provide for the diagnosis, care, or treatment of an existing health condition of, or preventive care for, a family member, which includes a child, grandchild, grandparent, parent, registered domestic partner, sibling, and spouse and as of January 1, 2023 a designated person.
The HWHFA amendments are consistent with many local laws currently in place in Berkeley, Emeryville, Oakland, and San Francisco which allow an employee without a spouse or registered domestic partner to designate a person for whom they can use paid leave. While the amendment to the HWHFA will allow an employee to designate a person at the time they request leave, these local ordinances require an employer to, shortly after employment begins, allow an employee to make a designation that will apply to future leave requests, and to update that designation annually. Thus it is important for employers to note their current procedures and update in accordance with both local and state laws.
Best Practice Action Items: Employers will need to update their paid and unpaid leave policies, and review their procedures. Employers should update all forms, educate managers and make sure that they consult counsel as they navigate these unique new laws.
Categorized in: Legal Procedure