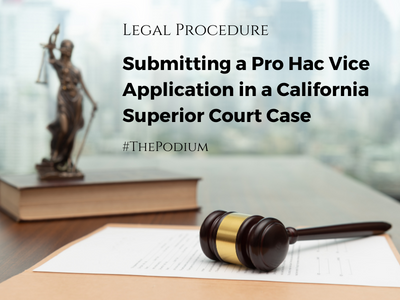 By Christine J. Flores, CBA
If you work with attorneys who practice in courts outside of the State of California, you've probably had to file an Application for Pro Hac Vice Admission a few times.  For cases venued in the U.S. District Court or Bankruptcy Court, the process is fairly straightforward.  The forms are typically available on the court's website.  The forms are easy to complete – asking for the attorney's contact information and a list of all courts the attorney is admitted in.  A Certificate of Good Standing is typically required and is easily obtainable from the State Bar of California.  Approval usually is given in short order.
For those who work for firms with offices outside of the State of California, the process to submit a pro hac vice application allowing the attorney to appear in a case venued in the Superior Court of California is a bit different.  The application must include the following:
Court case name and number
Court name
Declaration by the out-of-state attorney with his or her name, email address, home and business address, where he/she is licensed to practice
Declaration of bar licensing status in the attorney's home state
Name, phone number, address and bar number of the California attorney of record
In addition to the application containing the above-referenced information, a California attorney submits a supporting Declaration in support of the application, and a proposed Order is submitted.  Prior to filing with the Superior Court in the case that the out of state attorney will be appearing in, the documents are submitted to the California State Bar, along with a $50 fee.  A confirmation is thereafter sent which is attached as an Exhibit to the supporting declaration when the documents are actually filed in the case.
Once you are ready to submit the application, you are ready to create an account on the Admissions Portal of the State Bar website.  https://admissions.calbar.ca.gov/s/login/  Non-attorney assistants are permitted to set up an account and fill in the questionnaire to provide information about the out of state attorney, the attorneys of record in the case and the case itself.  The Application and supporting documents are then easily uploaded into the portal.
The process is fairly simple, however, there is a wait time involved.  As of this writing, I have been waiting for confirmation for more than three weeks from the State Bar.  I will update the information on the Podium once I have completed the process.
Instructions are on the State Bar website:  https://admissions.calbar.ca.gov/flow/PHV_Application
Categorized in: Legal Procedure