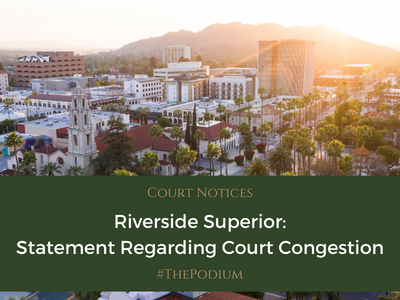 Since the onset of the COVID-19 pandemic in March 2020, the Riverside Superior Court operated under a series of statewide emergency orders, Rules of Court, and local emergency orders from California's Chief Justice designed to address the impact of COVID-19 on the justice system. The Riverside Superior Court sought and received a total of 42 emergency orders from the Chief Justice. The basis of these orders was the acute impact COVID-19 infections had on court operations, specifically, the inability to keep trial courts fully operational due to illness and quarantines of judicial officers, staff, jurors, and court users.
Many of these emergency orders included specific authorizations from the Chief Justice to extend the statutory deadline to bring a criminal defendant to trial pursuant to Penal Code section 1382. Once the most recent surge of COVID-19 receded, trial court operations were no longer substantially impacted by acute infections. Thus, further emergency extensions became unjustified, and seeking such extensions was not in keeping with the emergency nature of such orders. Equally important, the dispensing of statutory timelines for criminal trials under the emergency orders delayed the "day in court" for numerous criminal defendants, and those impacted by the alleged crimes. Consequently, the court formally notified relevant criminal justice stakeholders on September 29, 2022, that the court would not be seeking a further extension of the emergency order which was to expire on October 7, 2022. This approach is consistent with every other trial court in California as the last such emergency order issued by the Chief Justice among the 58 trial courts in California (Madera County) will expire on October 27.
Click here to learn more.
Categorized in: Court Notices