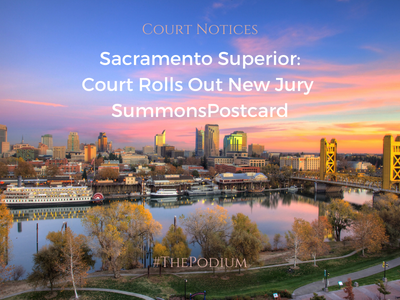 Sacramento, CA — Sacramento Superior Court this month will roll out a new way of summoning area residents for jury duty.
New "Official Jury Summons" postcards should start appearing in Sacramento County mailboxes by Nov. 18, 2022, according to the Director of Operations for Civil & Trial Support Ginger Durham.
The 6 x 4.25-inch postcards replace the 8-1/2 x 11-inch letter traditionally sent by U.S. Mail in an envelope. Jurors summoned the week of Dec. 19, 2022, will be the first to receive the postcard.
Sacramento Superior Court joins courthouses in Yolo County, Alameda County, San Mateo County, Orange County, and others using postcards to summon jurors.
Click here to learn more.
Categorized in: Court Notices