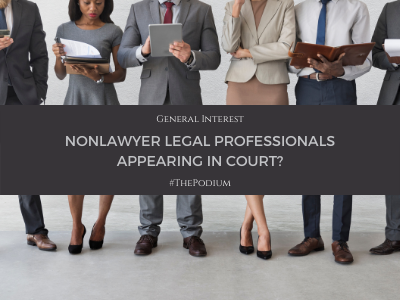 If you've been a legal professional for a few years, you have no doubt been asked questions by friends or family who assume that you "know things." But you've had to be careful so as not to tread over the line into the unauthorized practice of law. For those who would like to do more to help people, there just may be a career path worth considering.
The State Bar of California is considering a proposal to allow nonlawyer paraprofessionals to provide legal advice and undertake other tasks usually handled by attorneys. Under the plan, nonlawyer legal professionals would be allowed to represent clients in court in certain situations, but not in jury trials. The practice areas in which these legal professionals could work include family law, housing, consumer debt, employment/income maintenance, and collateral criminal cases, i.e., removing a record of conviction after successful completion of probation. These professionals would also be allowed to have minority ownership interests in law firms.
The goal of this initiative would be to provide access to legal services to those who otherwise cannot secure adequate representation. As reported by Gwendolyn Edwards, CCLS, LPI's Liaison to the Law Practice Management and Technology Section of the California Lawyers Association, there are more than 21 million Californians over the age of 18 who make over the income limit allowed to qualify for free legal aid, but many cannot afford to pay an attorney for the legal assistance they need.
Washington, Utah, and Arizona have already launched a program like this, and several other states are considering it. Among the criticisms of such a program is the concern that it would set up second-class service being given by those who don't have the experience or knowledge to represent people adequately.
The paraprofessionals would have to meet eligibility criteria, pass practice area exams and receive a positive moral character determination before being given a license. To be eligible to apply for the license, the legal professional would need to have obtained a JD or LLM, or be a qualified paralegal or legal document assistant under California law.
To learn more about this initiative, please review the article, Will California be the next state to permit nonlawyer paraprofessionals? posted on the ABA Journal's website, https://www.abajournal.com/web/article/will-california-be-the-next-state-to-permit-nonlawyer-paraprofessionals as well as Gwen's reports.
Categorized in: General