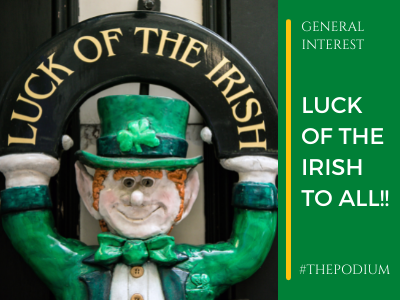 By Christine Flores, CBA
St. Patrick's Day is right around the corner on March 17, 2022, and even those who have no Irish blood in their veins start thinking about celebrating! In the United States, St. Patrick's Day includes parades, green beer, and corned beef and cabbage. Many of us wear green and threaten to pinch someone who is not wearing green on St. Patty's Day! Four-leaf clovers are seen all over. I'm still hoping to meet a leprechaun!
In Ireland, however, St. Patrick's Day is celebrated much differently. St. Patrick's Day is a religious holiday in Ireland, which celebrates Patrick bringing Christianity to Ireland in the Fifth Century. This holiday is observed by the Irish with the same reverence that Americans have for Thanksgiving Day – but it is much more solemn. There is a large parade in Dublin, and the little villages have parades of their own. Many of the local pubs are closed, as the holiday is celebrated at home after everyone has attended Mass. The elegant family dinner features a roast leg of lamb, roast prime rib of beef, or whole salmon. One item that will not be included in the meal is the traditional American St. Patty's Day meal of corned beef and cabbage!
Categorized in: General