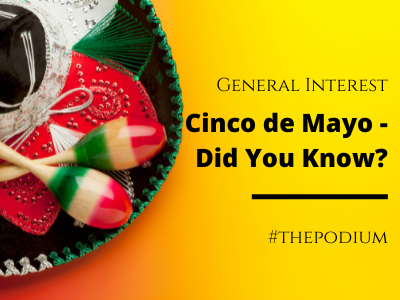 By Marlo Fontana
We hope you all had a safe but happy Cinco de Mayo. It's a day that we all gather with family and friends to eat and drink, but what do you know about this unofficial holiday? Here are some facts about Cinco de Mayo you might not be aware of.
One of the most common beliefs among most people is that Cinco de Mayo is Mexico's Independence Day. It's not — in fact, it's not even a federal holiday in Mexico. The actual Independence Day for Mexico is September 16th. So, then, what is Cinco de Mayo?
The day is celebrated to commemorate a victory by Mexico over the invading French at the Battle of Puebla on May 5, 1862. Mexico had been an independent nation since 1810. The event's significance is that it was a morale-boosting military win for an undermanned, poorly supplied underdog against a world power and would-be conqueror.
Cinco de Mayo originated in Mexico, but how did it get so popular in the United States? Other than the obvious "It's an excuse to drink and party," it took a while after the Battle of Puebla before it fully expanded into the U.S. According to studyspanish.com, President Franklin D. Roosevelt in 1933 instituted his "Good Neighbor" policy encouraging relations between the U.S. and Latin America.
As Cinco de Mayo celebrations became more prominent in the U.S., beer companies jumped on board, targeting Spanish-speaking populations beginning in the 1970s. This helped give a big charge to the holiday's popularity.
We hope you all enjoyed your Cinco de Mayo!!
Categorized in: General