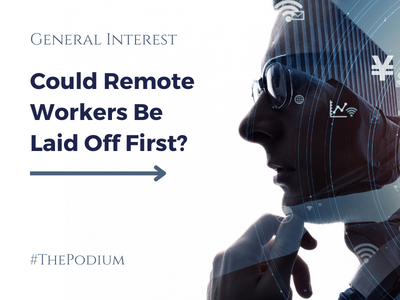 Many workers in many industries have enjoyed the luxury of a hybrid work schedule or a fully remote position for more than two years.  Many are reluctant to spend time commuting to work.  Others have found a way to work from home and care for children or elderly parents.  But with the possibility of a recession looming, and the prospect of layoffs in general growing, is there a potential downside to the work-from-home arrangement that continues to be very popular?  Could it be that these workers have been out of sight, out of mind?
In one large-scale survey by Beautiful.ai, a maker of business presentations software, 60% of managers said that remote workers would probably be laid off first.  The question arose early in the pandemic with some executives and management experts cautioning that it would be easier for bosses to terminate individuals they seldom see as compared to those they see daily.  It was also mentioned that those who are not present in the workplace would miss opportunities to demonstrate their abilities when new and unexpected situations arose in the office.
GoodHire, an employment screening firm in the Bay Area, found in a survey that 80% of workers felt that working from home would make them more vulnerable to a layoff.  It's probably too soon to know whether remote workers will be more vulnerable to being laid off first, as it benefits any company to keep high-performing employees, whether they are in the office or not.  However, personnel managers say much of the corporate world may be returning to an office culture that favors people working on-site.
According to the Working From Home Research Project, about 30% of all paid workdays are done from home.  Many workers value working from home so much so, that 45% said they would take a pay cut to be able to keep working remotely.  And about one in three workers state they would actually quit or look for a remote job if they were forced to return to the office full time, according to GoodHire's survey.
For more detail on the surveys mentioned here, please see the article at this link:  https://www.latimes.com/politics/story/2022-10-26/remote-workers-may-be-the-first-let-go-in-recession-related-layoffs
Categorized in: General