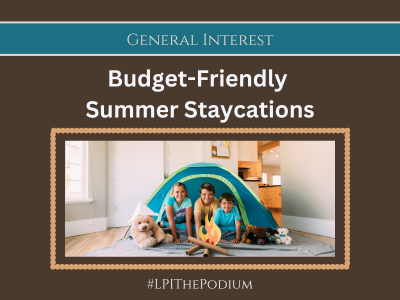 Looking for something fun to do this summer and not spend a fortune?  There are lots of really great ways to make the most of those vacation days and create lifelong memories without having to drain your bank account.
Camping
This is a total staycation win! Camping is a sure cure for cabin fever. Enjoy the great outdoors, do some hiking, or just chill and relax.  If you have access to campgrounds or recreational areas in your neck of the woods, camping can be a fun change of pace. You don't have to go all out with expensive camping gear – discount stores like Walmart carry a great selection of essentials at reasonable prices.
Or how about camping in your own backyard or on the balcony/porch?  This can really be lots of fun because you still have so many amenities and conveniences close by (like refrigeration and bathrooms!).  Inexpensive mosquito netting or a tent, a few battery-operated lanterns, an outdoor firepit or fire bowl, some cots or blow-up mattresses, snacks, a cooler of beverages on ice, and let nature supply the rest.
And if the outdoors or a backyard is not an option, do it indoors!  This is especially fun for the kiddos.  Amazon has bed tents and canopies with just about any theme you can imagine transporting your littles to outer space, the jungle, or a magical fantasy realm.
Stay at a Local Hotel or Bed & Breakfast
If you're more in the mood to be pampered, skip camping and book a room at a local hotel, resort, or bed-and-breakfast. It's the perfect way to see your town with fresh eyes and play tourists for a weekend or a few days.
County, State, or National Parks
If you're lucky enough to have a national or state park in your town or nearby (and we are fortunate to have many in California), take advantage and go exploring. Most parks have a variety of outdoor activities to offer, from hiking and biking to climbing, kayaking, and wildlife-watching. Pack a picnic and plan some fun activities for your time in the sunshine.
Be a Tourist
What do out-of-towners do when they visit your area? You may live in a place that lots of people visit, but you've never explored the area's main attractions. A staycation is the perfect excuse to finally check off those landmarks and activities. If you live in a major city, consider purchasing a pass that bundles several attractions at a discount, such as CityPass or Go City. This way, you'll save on admission and have several spots to experience.
Rent an Airbnb or VRBO
Is there a neighborhood in your city or a town close by that you've always wanted to explore further, or an area you frequent but never spend the night in? Make weekend plans to visit this part of town and stay at an Airbnb or VRBO. Booking an Airbnb offers a new perspective on your own stomping grounds, gives you a change of scenery, and is often less expensive than staying in a hotel.  Consider inviting other family or friends to join you and make it even more memorable and fun (and help lower the cost by splitting the expenses).  Who knows – – you could be creating a new tradition!
Plan a Pampering Party
How about a pampering party where you and your guests/family/partner spoil yourselves with some beauty and wellness?  Put together some inexpensive gift bags with spa-treatment items (dollar stores and Amazon are great sources for this!) and have an at-home spa treatment party.  Face masks, foot soaks, mani-pedis, etc., are a great way to pamper, relax, and have fun.  Add some light snacks, sparkling cucumber, and lemon water, some aromatherapy candles, warm towels, and voila! You've got an instant spa! Top it off afterward with a soak in the tub for a whole-body treatment with some healing, aromatic bath salts.
A Pool Oasis
Do you have a pool?  It's easy to create a pool oasis and transport yourself to someplace far away!  Bamboo screens, some inexpensive tropical plants and flowers, an easy-up shade screen or mosquito netting, fold-up chairs/loungers, grass mats, an outdoor fan, buckets for ice and cold beverages, some fun plastic cups with straws and cocktail umbrellas, a little island music and you're all set! For a nighttime look, add tiki torches, floating pool lights, and an outdoor chimney or firepit/fire bowl.
Categorized in: General