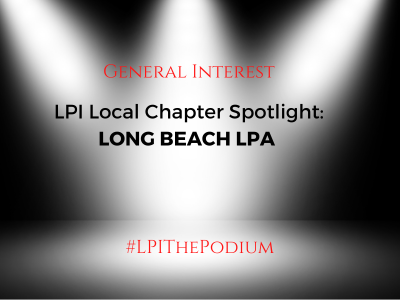 LONG BEACH – WHERE IT ALL BEGAN
By Denise Aguilar, CCLS – Submitted by Long Beach LPA
In 1929, Eula Mae (Smith) Jett submitted a paper to the County Clerk that was not properly prepared, and it was necessary for the Clerk's staff to correct it so it could be filed.  It was suggested by the County Clerk that it would be very helpful if the legal secretaries would get together and learn what was required in the preparation and filing of legal documents.
Eula Mae Jett took the suggestion to heart and mentioned it to her co-workers in Long Beach.  They all enthusiastically received the idea and soon they were meeting on a regular basis to increase their knowledge.  During these meetings, it was revealed that there were problems common to all legal secretaries and it was a good forum for discussion and resolutions of many of them.
Soon after other neighboring counties of legal secretaries had heard about the meetings and were interested in forming similar organizations.  In 1934, representatives from Long Beach, Los Angeles, Pasadena, and San Diego met for two days to consider banding together into one association.  At the conclusion of this meeting, the California Federation of Legal Secretaries had been organized with the aim of educating legal secretaries in legal procedure and the preparation of a loose-leaf procedural notebook.
A Code of Ethics, as well as a slogan, motto, and the official colors of blue and gold, were adopted.  The Federation flourished and in 1940 there were 12 chapters throughout California.  Also, in 1940, the California Federation of Legal Secretaries formed a California nonprofit corporation known as Legal Secretaries, Incorporated.
Over the years Long Beach Legal Secretaries Association (LBLSA) has enjoyed the benefit of having many members and has provided educational programs for their members as well as welcoming members from other associations.
In 2010, LBLSA members voted to change their name to Long Beach Legal Professionals Association (LBLPA).
LBLPA has had its share of membership ups and downs as all associations do.  However, we are still here and look forward to increasing our membership in these new times.  We are very proud of our beginnings and to be a part of a corporation that is current with the times and offers so much support for our community.
The advantages of being a member of a legal association are not always immediately apparent.  It is not just about education.  It is about community, support, and networking.  There are very few associations where you can network with its members in other counties and connect with people that can assist with legal procedure questions, referrals, or relocation.
Currently, our Board consists of Debby Tankersley, CCLS, Cathleen McGrath, and Mary Wong.
In October, Long Beach LPA will celebrate its 94th birthday!
Categorized in: General