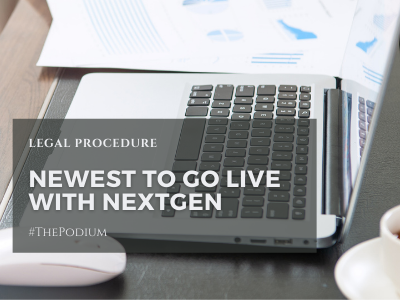 U.S. District Court for the Northern District of California – One of the Newest to Go Live with NextGen
If you are an experienced e-filer, you no doubt have had at least one occasion to make sure the attorneys you support have linked their CM/ECF and PACER accounts as the District Courts and Bankruptcy Courts go live with NextGen. NextGen allows the use of one login and password for any of the federal courts utilizing the NextGen e-filing system.
The process to link a PACER account to a CM/ECF account is not that difficult, but it does take a few steps. On or after the go-live date for a given court, you must link them in order to electronically file documents. This is a one-time process. To begin, go to the Court's CM/ECF site and click the "Document Filing System" link. You will then automatically be redirected to PACER to complete the process.
Log in with the upgraded PACER user name and password. You should see a tab for "Utilities" where you will have the option to "Link a CM/ECF account to my PACER account". Here you enter the attorney's current CM/ECF login and password. After checking the screen to be sure that the CM/ECF account and PACER account listed are accurate, click "Submit". The attorney's PACER account is now successfully linked. After this is done, you will log in with the PACER credentials for the next electronic filing.
If the attorney has not used the PACER account in more than two years, the accounts will automatically be deactivated. It is also possible that an account is deactivated if contact information is not up to date. If you are working with an attorney who recently joined your firm from another firm, you may need to verify that the contact information is up to date. If you have any questions regarding an attorney's PACER account, or linking an account to a CM/ECF account, the professionals at the Pacer Service Center are very responsive. They can be reached at (800) 676-6856 or by email: pacer@psc.uscourts.gov. They respond very quickly – often within an hour.
Categorized in: Legal Procedure