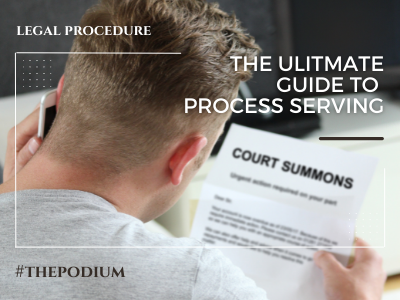 Part One of a Three-Part Series
By Frank Long
Process servers are the hands and legs of civil litigation. Millions of dollars in fees and settlements hinge on good process serving, so it is critical to have a reliable process service provider who can serve documents promptly and keep cases from becoming problematic as they move upstream. This article helps law firms recognize the traits of a process server that is reliable, effective, and can serve as a strategic partner to the firm.
Where do good process servers come from?
Since most states require no special licensing or education for process serving, it is not uncommon to hear the refrain, "Almost anyone can be a process server." Nothing could be further from the truth.
Good process servers are prized for their efficiency, efficacy, and reliability. But there is a more specific set of qualities that separate excellent process servers from the merely adequate. They include:
Resourcefulness
Patience
Industriousness
Craftiness
These four qualities are especially important when a process server is attempting to serve parties likely to evade service. Defendants may attempt to dodge service through behaviors that range from not answering a door knock to moving out of state. A professional process server knows how to deal with these behaviors, overcome them, and successfully serve legal papers.
Qualities to focus on when evaluating a potential process server:
Resourcefulness
A process server who is resourceful can adjust to variables such as location, presentation, and identity, to get documents served. Here is an example of how a resourceful process server might make those adjustments to serve an evasive party:
Floral delivery: In this scenario, the process server assumes the role of the delivery person and stages a delivery to the defendant at a bona fide event such as a defendant's birthday, anniversary, or holiday observation.
If the person who answers the door hesitates to allow the process server inside the home, the process server overcomes those objections by stating that the floral arrangement must be handed over personally to the party being served.
Upon encountering the party face-to-face, the server asks, "Are you Jane Doe?" The party responds in the affirmative and the process server hands over the documents to the defendant, along with the flowers.
Other approaches some resourceful process servers have used include dressing as a pizza delivery person and attaching a subpoena to the inside of a pizza box, or to wearing clothing like a commercial parcel delivery service and either handing over documents or attaching them to a box.
Patience
It is sometimes more cost-effective to wait out a party rather than return multiple times to a bad address. A good process server knows that in some cases the most efficient solution is to wait for a party to appear at a location where the individual is known to frequent. This requires only that the server exercise patience and make the serve lawfully. (They may even offer a stakeout, which is typically an additional fee.)
Some process servers may be tempted to bend the rules and leave documents at a location even when the party to be served is nowhere in sight. To avoid this type of service, which will jeopardize a lawsuit, law firms should research the provider's reputation to assure their serves are ethical and stand up to scrutiny.
Industriousness
Process serving is not a 9 to 5 occupation. A high-performing process server will be diligent and willing to put in long hours or work odd schedules as a matter of course. This is especially helpful when defendants are unlikely to be at a particular location at a specific time.
In this case, the process server overcomes an evasive defendant simply by putting in the time, travel, and effort to meet the party when and where that person becomes available.
Craftiness
A process server who is crafty may combine resourcefulness, industriousness, and patience to successfully serve court documents. Leveraging these qualities to identify a good address for service is one of the most productive things a process server can do.
To establish a good address the process server may ask neighbors or other locals about information that can help determine where a party lives, when the party may be at a residence, and where the party may go when he or she leaves the residence. Following is an example of how a crafty process server may execute this:
Package delivery: In this scenario, the process server carries a package marked for delivery to the defendant. Instead of going to the defendant's address the process server approaches a neighbor's door and says, "Hello, I have a delivery for John Doe."
The neighbor may respond with, "John Doe doesn't live here, he lives in the house across the street. You have the wrong address."
Another response may be, "John Doe used to live here but he moved across the street 5 years ago."
As the process server leaves, he may ask, "Do you know whether John Doe is home right now so I can deliver this?" The neighbor may respond: "Yes, he is," or, "No, John usually doesn't arrive home until about 7 p.m."
Now the process server has actionable information that can be used to pinpoint a good address or guide further investigation to ascertain the correct address.
The time and effort spent validating that address oftentimes will be less costly than making multiple attempts at a bad address. That is important because it typically costs money each time service is attempted.
Research and technology
A crafty process server will also be a skilled researcher and an expert in making serves as efficient as possible. Again, this is vital for dealing with hard-to-serve parties, and one way a crafty server will tackle such assignments is to use technology that performs skip tracing. Parties associated with debt-collection cases oftentimes may avoid service by moving out of town or out of state. Skip tracing can help locate these individuals so that papers can be served.
Another tactic a good process server may use is to simply leave papers with a party being served. This can be an effective tactic should the party refuse to take the documents in hand.
Success indicators
A process server worth having is one that is experienced and has statistics to back up any claims about performance. One good way to judge a service of process provider is to ask about that provider's service success rate.
A high serve success rate indicates that a process server is consistently successful in serving case participants. Anything above 90% is good.
Additionally, a good process server will have a reputation for serving parties quickly and promptly delivering proof of service. A desirable process server will also be a capable researcher who uses online resources to maximize the effectiveness of in-person work.
Speed of Service
Gaging a process server's speed of service means looking at how quickly the provider can successfully complete a serve as well as how quickly the Proof of Service is delivered back to the law firm. For example, a process server may require 10 days to get someone served, and an additional 3 days to complete and provide the Proof of Service to the firm. It is important to understand the average amount of time required for both of those processes in order to accurately estimate the speed of service.
Customer Service
Law firms should also be sure to ask a process serving company how serious it is about customer satisfaction. It's important to ask the provider how it tracks customer satisfaction and whether it can show proof of satisfaction scores or reports. And it is vitally important to ask what the provider does when customers are not satisfied.
Do you think you know a good service of process provider when you see one? Test your knowledge here:
What to Look for When Hiring a Process Serving Company.
California Process Server Requirements
In California, a person who wants to become a registered process server will have to go through several steps to achieve registration. According to the California Association of Legal Support Professionals (CALSPro), becoming a registered process server in the state requires the following:
Complete a registration form.
Be fingerprinted (to verify the applicant has not been convicted of a felony.
Complete a background check.
Obtain a bond (valid for the 2-year term of registration).
Two passport-size photos.
Pay fees (the base fee to register as of November 2021 is $134).
In California process servers are not required to be licensed, according to the National Association of Professional Process Servers (NAPPS). The association points out, however, that any individual who serves more than 10 papers annually must be registered either in the county in which they live or have their primary place of business.
About the Author:
Frank Long, MS, is a professional writer, editor, and content creator. He is a graduate of the Brian Lamb School of Communication at Purdue University and Content Marketing Manager for Rapid Legal. He may be contacted at flong@rapidlegal.com.
Categorized in: Legal Procedure