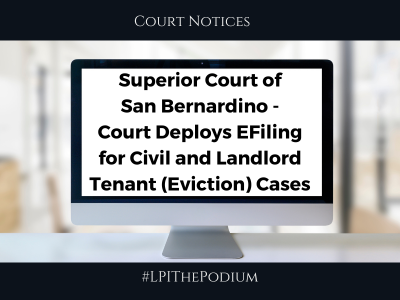 San Bernardino Superior Court Deploys EFiling for Civil and Landlord-Tenant (Eviction) Cases
SAN BERNARDINO, CA ─ San Bernardino Superior Court (SBSC) is excited to deploy electronic filing (eFiling) for civil and landlord-tenant (eviction) cases, effective Monday, October 2, 2023. Although eFiling is strongly encouraged for attorneys and the public, at this time, it is voluntary. Those who prefer to continue to file in person, by FileSubmit, or through the mail, can continue to do so.
Click here to learn more.
Categorized in: Court Notices