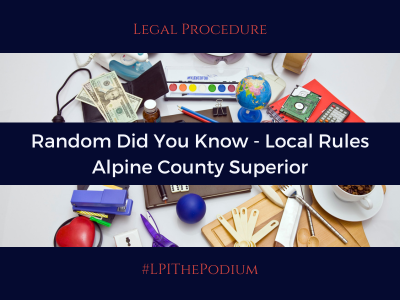 Did you know?
Rule 3.6 Trial Sessions, Location, and Juror Availability – All criminal jury trials will be regularly scheduled for a two-week period each quarter of the year, the schedule of which for the following year will be available in the clerk's office on or about each October 1.
Jurors in the Bear Valley area are exempt from jury service during the winter months due to the closure of Highway 4.
Rule 3.8.1 Facsimile Filing – . . . Facsimile filings shall not exceed twenty pages, inclusive of attachments. The cost for fax filing is $1.00 per page and a check made out to the Alpine County Superior Court should be placed in the mail within twenty-four hours.
Rule 4.1. Attire – . . . Counsel shall so instruct parties they represent, witnesses they call, and persons accompanying them. No person shall appear in court without a shirt, barefoot, or with a bare midriff. The following shall not be worn in court; sunglasses, hats, or any clothing that displays obscene, gang-related, offensive, or inappropriate words or pictures. This Rule applies to juveniles as well as adults.
Rule 5.4.1. Unless an extension of time to respond is granted by the serving party as provided below, whenever any party served fails to respond within the time limits specified in CCP § 3.110, the plaintiff must file a request for entry of default within ten days after the time for service has elapsed. The court may issue an order to show cause why sanctions should not be imposed if the plaintiff fails to timely file the request for entry of default.
Rule 5.11.1 Working Copies of Motion Pleading, Pretrial Management Conference Statements, Trial Brief – Any pleading consisting of eight or more pages, inclusive of attachments, when filed shall be accompanied by an additional copy conspicuously marked "Working Copy."
Rule 5.11.2 – At any time a visiting judge is appointed to hear an Alpine County Superior Court matter; the parties shall file all original pleadings with the Alpine County Superior Court, and forward a courtesy working copy to the visiting judge at his home court or office.
Rule 6.6.1 – Continuances, Special Appearances – Continuances frustrate the disposition goals and orderly processes of the court and are disfavored. However, in consideration of the court's remote location, it is the policy of the court reasonably to accommodate unavoidable conflicting commitments of counsel and defendants. Scheduling of continued matters shall be consistent with the regular calendars of the court. Routine requests to move matters from one calendar to another are disfavored. Conflicts arising after the scheduling of a given matter generally shall not constitute good cause.
Rule 6.6.2 – Motions to continue which fail to comply with PC § 1050 and particular applicable statutes and CRC, are disfavored. A stipulation alone will not constitute grounds for any continuance but may be presented as part of a motion.
Categorized in: Legal Procedure