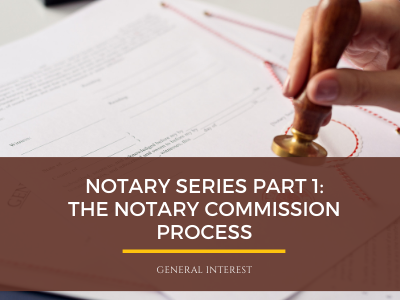 A Series Based Upon Everything You Need to Know About the Notary Commission Process Written By Jessica Melton
Congratulations, you want to become a notary public or wish to renew your notary public commission! However, you are not sure of how to start. In this series, we will talk about all things notary, starting with the process of how to receive your commission.
Select a school that has the California required 6-hour course for new commissions, or a 3-hour course for commission renewal.
There are several options that you can choose from including both online and local in-person courses. One of the most popular choices is the National Notary Association. You will also need to order your commission package. This includes items such as your journal, stamp, bond, and your two insurances.
For more information on this school and commission package, click here.
Fill out the state applications for your notary commission and LiveScan fingerprinting. You will also need two 2×2 passport photographs taken.
Complete the required educational portion of the course. Once you have finished your required hours, then you will receive a certificate of completion and you can sign up to sit for the California state exam.
Pay to get your LiveScan fingerprinting done.
Remember to take your LiveScan application and passport photos with you for this.
Test time! The state exam is only 50 questions, and you have 1 hour to complete it. all the questions are multiple-choice. Whew!
You must bring a valid photo ID, a completed application, your "Proof of Completion" from the training course, and the state fee to the exam.
A valid photo ID includes (a) Driver's license (issued in the last five years before the exam); (b) a current passport; (c) a Military DD2 or (d) an Active Duty Card. A Common Access Card is NOT acceptable.
The results come by email and usually take 15 business days to arrive. (I know, it's agonizing). You need a score of 70 or greater to pass.
If you pass (fingers crossed!), then you will receive your commission number and certificate of "Authorization to Manufacturer Stamp" from the state in about 2-3 weeks after your score is announced.
The school will also send you your Bond as soon as the state has issued your commission.
Next, you need to mail the original Certificate to Manufacture Notary Seal to the school by traceable delivery (such as priority mail).
The last thing you need to do is file your Oath of Office and Bond with the County Clerk within 30 calendar days of your commission date.
***Failure to file within the 30-calendar day mark will result in commission refusal and you will need to start the whole process over. (YIKES!)***
Receive your stamp and start notarizing!
Now you can enjoy all the perks of being a notary for the next four years. It may seem like a long and arduous process, but trust me, once it is finished it is totally worth it.
Categorized in: General