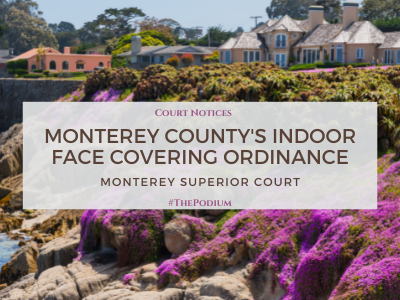 The Monterey County Board of Supervisors approved a countywide face-covering ordinance which goes into effect on October 29, 2021.
While in effect, the ordinance requirements are only triggered if Monterey County's Community Transmission Rate, as calculated by the CDC, is either "substantial" or "high." That means even with the ordinance in place, the mask requirement would not go into effect if community transmission rates were not at those high levels.
Should the transmission rates move into those higher rates after the ordinance's effective date, the face-covering requirements would go into effect seven (7) days thereafter.
Click here to learn more about this ordinance.
Categorized in: Court Notices