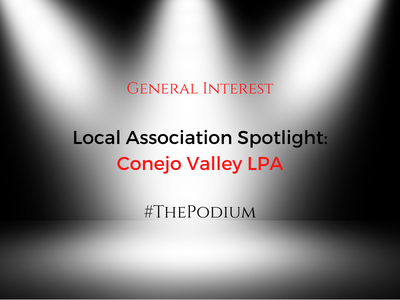 CONEJO VALLEY LEGAL PROFESSIONALS ASSOCIATION (CVLPA)
Location:         Ventura County
Chartered:       Issued August 15, 1987
History:
Elaine Goldner, CCLS, was the founding president of Conejo Valley Legal Secretaries Association, as it was known back then.  She had been a member of Ventura County Legal Secretary's Association (VCLSA), as it was previously known.
Elaine and her family moved to Conejo Valley in 1978. She found a legal secretary position and attended Ventura's Clerks Dinner to become familiar with Ventura County Rules of Court.
Elain was driving to Ventura after work to attend Ventura's meetings. She had two small children at home during this time, with a husband who often traveled for business/work. Elaine had become good friends with her colleagues Theresa Herrold and Laurie Richardson, who suggested she start a chapter in Conejo Valley. The Conejo Valley area was growing in population and more law firms were opening. Elaine met other legal professionals living in the Conejo Valley area while attending the Ventura chapter's functions, and that small group formed Conejo Valley Legal Secretaries Association.
Current Board:
Barbara Haussmann, CCLS
President/Treasurer
Ashley Herles
Vice President
Monica Montanari
Secretary
Shirley Lipkin
Governor
Categorized in: General