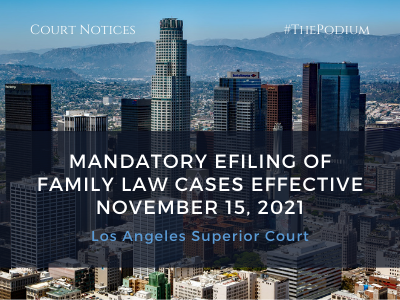 A reminder of the Mandatory E-Filing for Family Law Cases Effective November 15, 2021.
The Family Law Division will implement mandatory electronic filing (efiling) for specified documents filed in Family Law cases in which litigants are represented by attorneys beginning Monday, November 15, 2021, as required per Presiding Judge Eric C. Taylor's directive in General Order 2021-GEN-032-00, issued on September 17 (attached). Self-represented litigants also will have the option to efile as of November 15. Efiling provides efficiencies and enhances the Court's ability to maintain complete and easily accessible records.
Click here to learn more about this announcement.
Categorized in: Court Notices, Legal Procedure