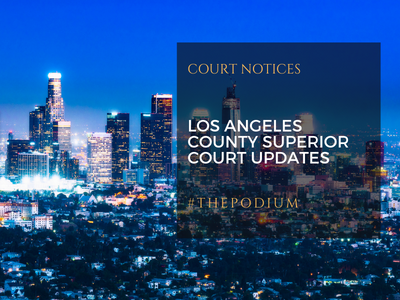 Presiding Judge Eric C. Taylor Announces Virtual Mandatory Settlement Conference Program in the Court's Personal Injury Hub in Partnership with Local Bar Associations
Resolve Law LA Virtual MSC Program Website Launches June 21, 2021; Virtual Mandatory Settlement Conferences Begin June 28
Presiding Judge Eric C. Taylor today announced the launch of the Resolve Law LA Virtual Mandatory Settlement Conference (MSC) Program, a virtual program that leverages the talent of qualified volunteer lawyers from members of numerous Los Angeles County area bar associations to resolve cases pending in the Personal Injury (PI) Hub Courts before they proceed to trial. The Court is collaborating on the program with the Association of Southern California Defense Counsel (ASCDC), the Consumer Attorneys Association of Los Angeles (CAALA), the Los Angeles Chapter of the American Board of Trial Advocates (LA ABOTA), and the Beverly Hills Bar Foundation (BHBF).
Click here to learn more.
Edmund D. Edelman Children's Courthouse Marks 30th Anniversary with Expanded Access to Justice for Families
Remote Hearings and a Recently Opened Dependency Courtroom in the Court's East District Give Parents and Parties Convenient Appearance Options, Saving Time, and Money
 On the 30th anniversary of the opening of the first courthouse in the nation devoted entirely to juvenile dependency cases, the Court continues to build on its commitment to children and families by vastly expanding access to justice with remote courtroom appearance options and a pilot satellite dependency courtroom at the Pomona South Courthouse.
"The Edmund D. Edelman Courthouse has served our community resolutely by providing a safe and welcoming environment for children for three decades," Presiding Judge Eric C. Taylor said. "The courthouse reflects the commitment made to help children in need or in dire situations requiring intervention. From this courthouse, our dedicated and creative presiding judges of juvenile have been the architects of innovation and service to children through impactful programs such as the enduring National Adoption Day. It is an honor to acknowledge all of the judicial officers over the years who have worked to help families and children with these difficult cases."
Click here to learn more.
New Optional Class Action Settlement Forms Available to Assist Parties and the Court with More Efficient Case Resolution
Plaintiff, Defense Counsel Worked with the Court to Agree on Form Agreement Terms Together with a committee of plaintiff and defense counsel, the Court has developed three form wage and hour settlement agreements designed to streamline the parties' negotiation process, help them come to an agreement on proposed settlements faster and make it easier for judges to review and approve them more efficiently, Presiding Judge Eric C. Taylor announced today. "These comprehensive settlement forms provide a template allowing attorneys to more easily draft class action settlement agreements, with content they know is likely to be approved by the Court," Presiding Judge Taylor said. "I want to extend my sincere gratitude to Judge Amy Hogue for spearheading this efficiency with the support of Supervising Judge of Civil David J. Cowan and Administrative Assistant Supervising Judge of the Complex Civil Litigation Program David S. Cunningham III. Together they worked collaboratively with 16 attorneys to draft these model forms so we can resolve these cases with the utmost economy."
Click here to learn more.
Beginning July 1, Attorneys with a CourtID Will Have Access to Advanced Attorney Portal Features
Effective July 1, 2022, the enhanced features of the Advanced Attorney Portal will be available to all attorneys with a CourtID at no cost, such as the viewing of their electronic cases files (if available) and setting up alerts for their cases.
Click here to learn more.
Early Resolution Employment Case Pilot Program Expands to All Civil Independent Calendar Courts in Stanley Mosk Courthouse Effective July 5, 2022
Effective July 5, 2022, the Early Resolution Employment Case Mandatory Settlement Conference Pilot Program (pilot program) will expand to all civil Independent Calendar (IC) courts in the Stanley Mosk Courthouse. The pilot program, initially launched in February 2022 and expanded in April, encourages resolution of employment cases through early virtual Mandatory Settlement Conferences (MSCs) conducted through Resolve Law LA (RLLA).
"With the help of our invaluable bar associations and justice partners, the Los Angeles Superior Court continues expanding our efforts to guarantee swift and comprehensive access to justice and resolution to the 10 million Angelenos we proudly serve," Presiding Judge Eric C. Taylor said. "This resolution program is yet another piece of our ongoing efforts."
Click here to learn more.
Categorized in: Court Notices