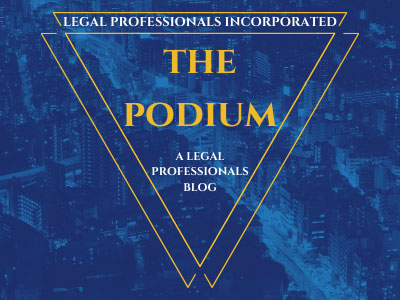 This article must read with a grain of salt…and several of the examples are taken from the East Coast of the country, but regardless this is a potential eye-opener:
"Legal Secretary, a Dying Job?  Positions Dwindle as Firms Cut Back; Younger Lawyers Type Their Own Briefs" taken from the Wall Street Journal
By JENNIFER SMITH and JOE PALAZZOLO
Steve Bryant is still hunting for permanent work more than four years after he was laid off from his legal secretary job at the New York office of Latham & Watkins LLP, which slashed more than 250 staffers at the height of the recession.  Mr. Bryant has tried to burnish his résumé, obtaining a college degree and a paralegal certificate from Hunter College in New York. Despite roughly 20 job interviews, and a slew of job applications, he has landed only lower-paying work as a temp. He and his wife were leaning on credit cards until her work as an architect picked up in recent years.
"She's keeping us afloat. Thank God for that," said Mr. Bryant, 58 years old.
Cutbacks in the legal business aren't just falling on lawyers. They are also hitting legal secretaries, support staffers who are increasingly being displaced as firms try to reduce costs and usher in a new generation of lawyers who conduct business by email and type their own briefs.  Some secretaries have taken on new roles as a result of the changes. But many others have been set adrift in an unforgiving job market.
For decades attorneys relied on loyal secretaries to handle clients, juggle their calendars and prepare basic legal documents. The legal services sector supported about 187,000 such jobs in 2012, with an annual average salary of $44,590, according to the Bureau of Labor Statistics—a middle-class paycheck for a largely female workforce, some of whom have spent their entire careers with one firm, or even one lawyer.
Veteran litigator Paul Schechtman has been working with his secretary, Wendy Rommeney, for nearly two decades. She corrects his grammar, hunts down case files and keeps track of his billing. "I would fail without her," said Mr. Schechtman, a partner at Zuckerman Spaeder LLP.
In recent months, a number of major law firms have offered buyouts to legal secretaries, accelerating a trend that began before the downturn.  This week New York law firm Weil, Gotshal & Manges LLP cut about 110 staff positions, including about 60 legal secretaries. "I would imagine that the remaining secretaries are going to take on a heavier workload," said Lee Glick, a legal secretary with Weil who has worked there more than 25 years and still has a job.
Firm managers say the changes reflect larger shifts in the legal profession. A continued slowdown in demand since the recession has ratcheted up pressure to cut costs, and technology has reduced the need for clerical staff to perform filing, input documents and other tasks. As clients push back on rate increases, firms looking to boost profits are slashing expenses and hunting for greater efficiency.
Secretaries who once assisted one or two attorneys now support as many as eight, particularly those working with younger lawyers. "Firms have dramatically increased ratios," said Barry Brooks, chair of the New York office of Paul Hastings LLP.  Firms are also retooling their administrative workflow, farming some tasks out to specialists in remote locations and assigning secretaries to work with groups of lawyers to help distribute the work more evenly.  Last year, Paul Hastings moved some data processing functions to a facility in Arizona run by outsourcing company RR Donnelley RRD +3.14%. Such changes have increased efficiency and helped contribute to a record 6% increase in profits in 2012, the firm said.
And this winter Philadelphia law firm Blank Rome LLP overhauled its secretarial model after an assessment of what its lawyers needed—or didn't need—from their assistants.  "We are in an environment where there is a lot of pressure on staffing levels," said Allison Friend, the firm's chief human-resources officer. "It became clear that the law firm model was not working."  About 30 secretaries took buyouts, and a group of 10 technology specialists was assigned to support junior lawyers across the firm's 10 domestic offices. Teams with expertise in areas, such as patent litigation, were assigned to specific practice groups, and other secretaries continue to provide traditional assistance to partners and other lawyers who need more hands-on help.
Lisa Berman, a legal secretary who has been with Blank Rome for 34 years and now works with the technology group, said she welcomed the change. It's easier to troubleshoot technical problems, she said, because the team is clustered together. And her assignments come in via email, one task at a time. "I don't have four attorneys standing at my desk waiting to hand me something," said Ms. Berman, who is 58. "We feel a lot less stress."
Last month, Crowell & Moring LLP also revamped its secretarial approach. Some administrative assistants now work in a centralized business center, where they handle projects or provide specialized support, while others sit in close proximity to lawyers and perform general administrative tasks, including client service. Twenty-nine secretaries took a voluntary buyout that includes six months of annual salary.
Skilled secretaries in big cities can earn as much as $90,000 a year; more typical salaries at large law firms range from about $40,000 to $70,000, depending on location and experience.
But each buyout adds another candidate to an already glutted job market. Veteran secretaries are competing for work against younger candidates, many with degrees or special expertise in computer programs and electronic filing systems that have become commonplace in recent years.
"I have been on countless interviews, passed all the tests, I went to agencies—nothing," said Kim Richardson, a legal secretary from Hackensack, N.J., who lost her job when New York law firm Dewey & LeBoeuf LLP collapsed last May.  A number of her colleagues are still looking for work, she said. "Some of them lost their apartments, others had to move in with relatives," said Ms. Richardson, 55 years old. She has run through her retirement savings, and now works part-time as a marketing assistant at a retirement community.  Even her friends who still work as legal secretaries are worried about job security, she said. "Some of them are complaining that they don't have enough work," Ms. Richardson said. "The demand for legal help is just dwindling."
Categorized in: Legal Procedure