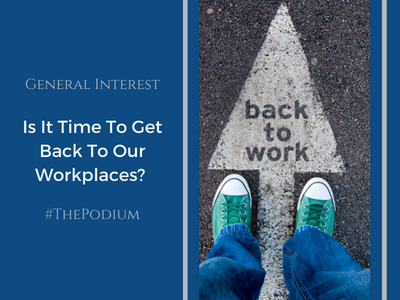 By Christine Flores, CBA
After two years of working from home, there are many of us who have returned to our offices on a regular basis.  Some firms are asking employees to come in three days a week.  Other legal professionals are working in their offices four days a week.  And there are some who have been back in the workplace five days a week for quite some time.  There are others who have been given the green light to work from home – wherever that home may be located – on a permanent basis.  But is this truly a good thing?
Many say they are more productive at home.  Many enjoy the time they save by not commuting.  But in a city like San Francisco, the slow pace of the return to work is putting small businesses, restaurants, bars and commercial real estate at risk.  The downtown/financial district could be in for a real meltdown in spite of the possibility of having festivals and events.  Because what San Francisco, and cities like it, really needs is for the workforce to return to their workplaces.  While more people are returning to work in San Francisco, the pace is quite slow compared to cities with similar workforces, like San Jose, Los Angeles, New York and Austin.  Approximately 39.1% of San Francisco's workforce has returned to the office.  New York and Los Angeles are averaging about a 41% return to work rate.  Austin has a 59% return to work rate.  And San Jose comes in last with only 36.5% of its workers back.
Salesforce recently announced that it was releasing 40% of its office space in San Francisco, as it has adopted a work where you want policy.  Economists are noting that if working from home becomes a permanent model, it's going to take a long time for the occupancy rates to return.  This will mean less workers in San Francisco, which means there are fewer people patronizing the local businesses.  There are other reasons to think about returning to the office.  It's time to get out and enjoy the world because living like a hermit is really not the ideal way to live. There is also something to be said for collaboration in the workplace.  There is nothing better than face to face interaction.
For more thoughts on this topic, please read the article at this link:  https://www.sfexaminer.com/our_sections/forum/top-5-reasons-to-get-your-ass-back-in-the-office-im-talking-to-you/article_82e13ba2-0c6d-11ed-b2d7-7be8356b6b27.html
Categorized in: General