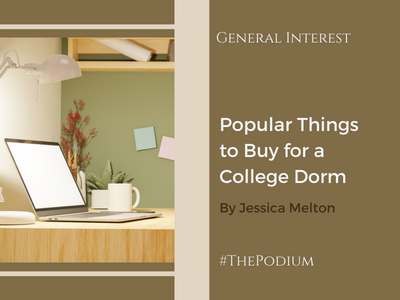 By Jessica Melton
The summer is almost done, which means college students are heading back to dorm life on or off campus.  It can be daunting figuring out what to buy and what not to buy for their dorm.  According to Consumer Reports, here are a few "essentials" that every college student needs to have.
Bed Sheets with a Comforter – comfortable bed sheets and comforters make all the difference not only in keeping warm but also in expressing their own style while decorating their part of the dorm.
Humidifier – Dorm rooms can get stuffy, especially since some campuses do not offer heating or air in the rooms. These can keep the air moist in the wintertime and breathing for your student, easier.  The only downside is that they need to be cleaned from time to time.
Noise-Canceling Headphones – these are perfect for the music buff as well as for keeping their roommate's snoring from keeping them awake.
Portable Bluetooth Speaker – Again, this is a wonderful gift for the music buff and podcast buff alike.
Handheld Vacuum – a cleaning tool that can fit underneath their bed… need we say more?
Coffee Maker – this is good for maintaining good study habits… right?!
Microwave – If your campus does not have microwaves to rent, purchasing one might be a good idea. That way when the urge hits, they can heat up leftover pizza at midnight.
Now, when it comes to going overboard, here are a few things not to buy, according to apartmenttherapy.com:
Television – kids these days don't watch as much traditional tv as they do streaming on their devices. So, why spend for a television when all they want to do is be on their computer, anyway?
Printer – that's right, I said it. Many colleges will offer free printing in the printing lab.  That said if they can print for free on campus, why deal with a bulky printer and spend money on cartridges?  Especially since it seems like they always run out the very minute something large is due!
Tons of Clothes – dorm room closets are notoriously small so bringing only the essential clothing is warranted. This is the ultimate test of mixing and matching!
Please note, these lists are not exhaustive.  Just remember that your student just needs to do what feels right for them.  The expression, "you do you" definitely fits in here nicely.
For more information, please visit: Consumer Reports and ApartmentTherapy.com
Categorized in: General