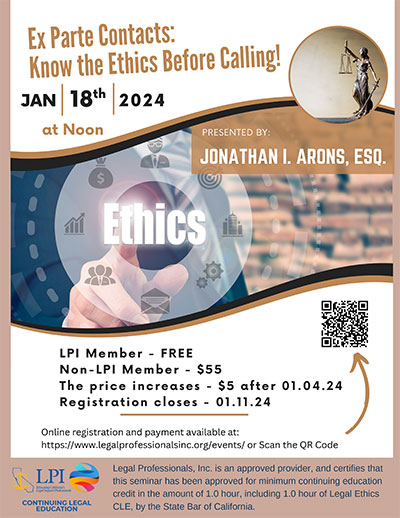 Learn the California rules that govern ex parte communications with witnesses, unrepresented parties, the judges or court personnel to ensure to stay within the law. Learn when and what is ok to discuss and who needs to be copied before you make your next phone call or send your next email!
Jonathan I. Arons has been an ethics lawyer for over 30 years, longer than many attorneys have been practicing. This level of experience matters when you are faced with a disciplinary proceeding. As most lawyers know, with experience comes familiarity with the judges, prosecutors, court clerks and others involved in the disciplinary process.
Jonathan has committed his entire legal career to professional ethics issues. Admitted to practice in 1983 and opening his firm in 1988, he concentrated on defending attorneys against discipline charges in the State Bar Court, advising applicants for admission or reinstatement to the California State Bar and advising attorneys and law firms on violations prevention and the resolution of ethical questions.