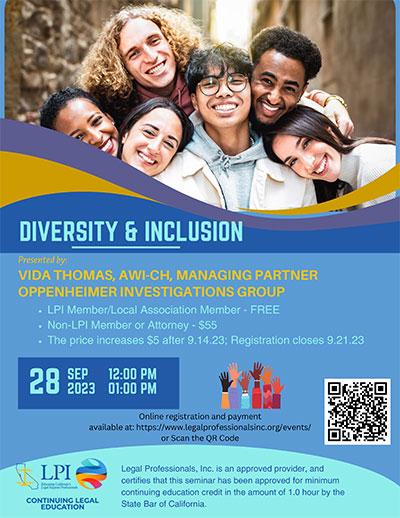 September 28, 2023 – 12:00-1:00PM
Presented by: Vida Thomas, AWI-CH, Managing Partner Oppenheimer Investigations Group
An inclusive and diverse place of employment is very important. It doesn't matter who you are — attorney, paralegal, secretary, file clerk — everyone deserves to feel equally supported in all areas of the workplace. Join us on September 28, 2023, for a deeper dive into this important subject.
Vida has practiced law for more than 25 years. She started her career as an employment defense litigator. She also advised employers on all aspects of employment law and human resources management as governed by Title VII, the California FEHA, ADA, ADEA and other federal and state employment laws.
She has conducted more than 200 workplace investigations and is experienced in complying with Title IX, Title 5, the Public Safety Officers Procedural Bill of Rights and the Firefighters Procedural Bill of Rights.
She also routinely conducts sexual harassment prevention training — including AB1825 compliance training — for state agencies and private companies. She teaches managers and supervisors how to implement legally effective performance reviews. She has conducted dozens of seminars on the Americans with Disabilities Act, the Family Medical Leave Act, employee drug testing and sexual harassment investigations.
Before joining the firm, Vida was Of Counsel with Stoel Rives LLP and Weintraub Tobin Chediak Coleman Grodin Law Corporation. She began her legal career as an employment litigator at Kronick Moskovitz and then co-founded Carlsen Thomas, LLP, a boutique employment law firm that offered workplace investigations and employee training throughout California for 13 years.
The webinar link and call-in information will be sent to you the day before the webinar. You'll need to follow the link in your confirmation email to register for the ZOOM codes.
Registration is closed.