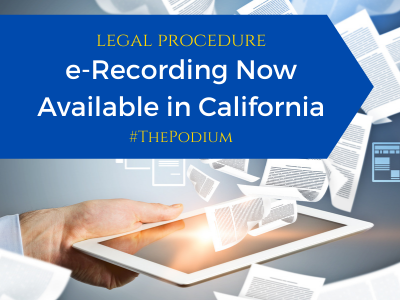 Many things changed when we shut down due to the COVID-19 global pandemic. State Government Offices and Municipalities throughout the state began to offer some sort of electronic services during the shutdown. One of the services that many may not be familiar with is eRecording with many of California County Recorder Offices. So, just how does it work?
Electronic Recording (e-recording) is the process of recording documents via a secure internet portal that would otherwise be sent by mail or courier to the local County Assessor-Recorder's Office. E-recording is an efficient and secure means to submit documents electronically.
Your local legal support service provider that offers eFiling Services, may also provide eRecording Services. But here are a few things you will need to know.
The original document(s) will need to be sent to your service provider.
Not all the counties in California accept eRecording so be sure to check with your local County Recorder.
Your documents will be scanned so that they can be uploaded through the secured web-based portal.
The Recorder's office will process those electronic document files if there are no errors. If errors are found, the document will be rejected.
Once the documents have been reviewed and approved for processing, they will be stamped, recorded, and returned electronically.
Please note, not all documents can be recorded. Be sure to check with your local County Recorder for a list of documents that can be processed electronically. Also, don't forget to review the requirements for documents to be recorded.
If you need further assistance, contact your local County Recorder's office, or simply call your legal support service provider.
Categorized in: Legal Procedure