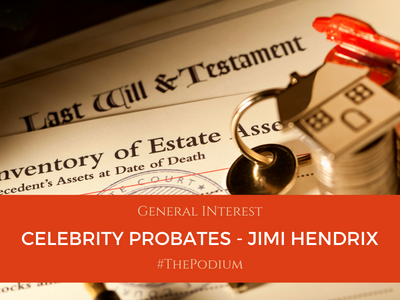 By Mary Lou Floyd, CCLS
Celebrity/Artist:
Jimi Hendrix
Date of Death:
September 18, 1970
Age at Time of Death:
27 years old
Cause of Death:
Asphyxiation (choked on his own vomit)
Assets:
$80 million (includes copyrights and royalty rights)
Estate Plan or Will:
None
Note: This is an interesting probate because you do not encounter many probates that involve an asset such as intellectual property – copyrights and trademarks. Also, in the end, a blood relative did not inherit the assets.
Even though Jimi Hendrix was only 27 years old when he died, and it's been over 50 years since he died, he is still considered to be the best guitarist that has ever lived. The Jimi Hendrix Estate is one of the most litigated probates in the history of entertainment litigation.
20 years after Jimi Hendrix's death, his father, Al Hendrix, was given control over the $80 million empire, and the protector of Jimi Hendrix's legacy.
Here is a list of the most significant litigation regarding Jimi Hendrix's estate:
1993: Al Hendrix sued his attorney to win back the music rights and the legacy of Jimi Hendrix – there were allegations of shady dealings on the part of the attorney that Al Hendrix had not consented to.
1995: Al Hendrix wins the case against the lawyer! Al Hendrix forms Experience Hendrix LLC, a family-owned company, that, to this day, presides over all things Hendrix.
2002: Al Hendrix dies. He does leave a Will appointing his adopted daughter, Janie Hendrix (half-sister to Jimi Hendrix), as executrix.  His daughter, Janie, is now in charge of the Estate of Jimi Hendrix. Janie's half-brother, Leon (Jimi Hendrix's blood brother), sues to have his father's (Al Hendrix's) will overturned and to remove Janie as the personal representative of the Estate of Jimi Hendrix. Leon's lawsuit failed. Janie continued as the personal representative of the Estate of Jimi Hendrix.
2009: On behalf of Experience Hendrix LLC, Janie files a lawsuit against her half-brother Leon and Leon's partner in the United States District Court alleging they were committing trademark infringement. They were selling merchandise such as t-shirts, hot sauce, smoking materials, video games, and posters, that capitalized on Jimi Hendrix's fame.
2014: It takes five (5) years, but the 9th Circuit Court of Appeals rules in favor of Experience Hendrix LLC. The ruling included the ability to crack down on any vendors selling unauthorized products bearing Jimi Hendrix's name or his likeness.
2015: The Estate of Jimi Hendrix sues an Arizona guitar shop owner, Harvey Moltz. The shop owner allegedly has a guitar once owned by Jimi Hendrix. Moltz claims he paid $80,000 for the guitar. However, the guitar was stolen by a singer and guitarist for Earth, Wind & Fire and a former member of the Commodores. This person is also the ex-husband of Janie Hendrix. Through litigation, it is confirmed that Janie never had possession of that guitar.  The guitar is worth between $750,000 and $1,000,000. Moltz agreed to hold onto the guitar until other lawsuits were settled.
2016: Experience Hendrix LLC did not win the following lawsuit. Experience Hendrix sued Tiger Paw Beverage Company and Leon Hendrix for trademark infringement. Tiger Paw and Leon partnered into selling an alcoholic beverage named "Purple Haze Liqueur" – alluding to Jimi Hendrix's famous song. A Savannah Georgia court ruled that the name is not similar and there was no infringement on any registered trademarks.
Present day: Litigation is ongoing between Sony Music's London office and Noel Redding and Mitch Mitchell over copyright infringement regarding recordings re-mastered or re-released.
Information was gathered from various court websites, online encyclopedias, various music news formats, and general online information easily accessed through a general Google search.
Categorized in: General