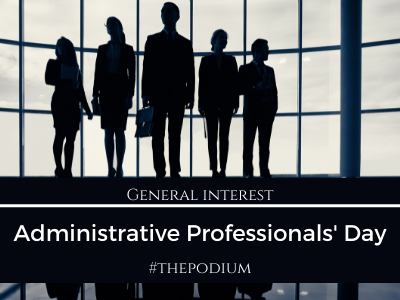 (The last Wednesday of April)
This year's Administrative Professionals' Day was on Wednesday, April 27, 2022. Administrative Professionals' Day, also known as Secretaries Day or Admin Day, recognizes the professionals who keep an office running smoothly every day. We celebrate these professionals on the last Wednesday of the month each year. The day recognizes the work of secretaries, administrative assistants, receptionists, and other administrative support professionals. Central to any business, these professionals keep an office organized and efficient.
THE DAY IN THE LIFE FO AN ADMINISTRATIVE PROFESSIONAL
The day in the life of an administrative professional is varied from moment to moment. While organization is key to their success, their flexibility and ability to handle the unexpected make them valuable to any business. Some of their responsibilities include managing appointments, drafting letters and memos, booking business trips, coordinating appointments, and planning meetings.
Administrative Professionals compile data and research information, too. Their organizational skills mean they pinpoint information quickly and keep the executive on schedule, whether they are in transit or with a client. They are central to an office or business running efficiently.
HISTORY
The International Association of Administrative Professionals promotes National Administrative Professionals Day. The observance was first launched in 1952 when U.S. Secretary of Commerce, Charles Sawyer proclaimed June as National Secretaries Week. In that same year, June 4th was designated National Secretaries Day. The name changed to Administrative Professionals in 2000 when the day was also added and the events moved to April.
Happy Administrative Professionals' Day!
Categorized in: General