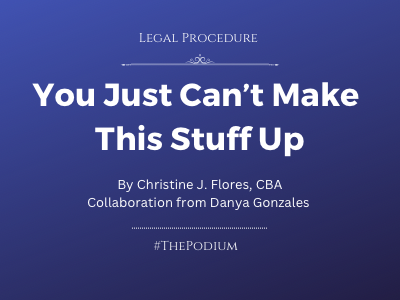 Christine J. Flores, CBA –
with collaboration from SFLPA Board Member Danya Gonzales
As many of you know, our current Bankruptcy laws are designed to give individuals and businesses a fresh financial start. In the case of individuals, it is usually a large amount of uninsured medical expenses that causes a person to file a bankruptcy petition. For businesses, it can be an opportunity to get more time to restructure the debt. And, in some cases, the petitions are necessary because there may have been a mismanagement of finances – which is really an understatement in the case below.
Take the case of the Girardi Keese law firm. The name Thomas Girardi may not ring bells, but his claim to fame is his role in obtaining a $333 million pollution settlement that inspired the 2000 film Erin Brockovich. Girardi Keese was a once-celebrated plaintiffs firm in Los Angeles. In the seven years before seeking bankruptcy court protection, the firm spent over $48 million on nonbusiness-related expenses such as paying off employees' gambling debts, bankrolling live entertainment productions and bleeding millions into possibly fraudulent companies, according to the firm's bankruptcy trustee. At least some of the money is believed to have belonged to the firm's clients It was revealed in December 2020 that the firm had stolen millions from its clients in a Ponzi-like scheme. Many more clients have since come forward reporting that they were ripped off, and it is believed the firm owes hundreds of millions of dollars to former clients, co-counsel, lenders and venders.
Since the firm's downfall, Mr. Girardi has been diagnosed with Alzheimer's disease, placed into a conservatorship and disbarred. He has not been publicly charged with a crime. However, the firm's former CFO, Christopher Kamon, was arrested on suspicion of wire fraud. It has been alleged that the former CFO siphoned more than $10 million from the firm in a long "side fraud" scheme, embezzling money from the firm's operating accounts and using the law firm's accounts to pay illegitimate vendors, many of whom were in the construction industry. Mr. Kamon also used the firm's money to pay for real estate, personal travel, lavish gifts and a $20,000 monthly allowance to a woman he may have met on an escort website. His "companion" is also a defendant in one of the adversary complaints filed by the Bankruptcy Trustee. The Trustee claims that the law firm paid $425,000 to her and a company she controlled. Several construction contractors who allegedly received millions from the law firm have also been named in similar adversary complaints. Wynn Resorts, Ltd., which received $115,000 in payments on account of gambling debts at its hotel and casino on the Las Vegas strip, along with entertainment industry companies have also been named. The Bankruptcy Trustee is quite busy attempting to collect as much as $48 million for the benefit of the creditors of Girardi Keese.
This is an example of stuff that you just can't make up. The case is In re Girardi Keese, Case No. 2:20-bk-21022 in the U.S. Bankruptcy Court for the Central District of California. For further case details, check the online publication Law360.
Categorized in: General