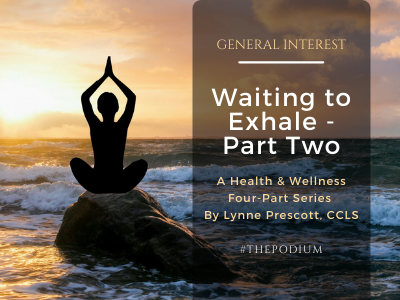 PART 2 – A SYNOPSIS OF "WAITING TO EXHALE: IT'S OKAY NOT TO BE OKAY" written by Lynne Prescott, CCLS
FATIGUE
We are getting fatigued because we thought we were out of it. This is our third wave. I call it the "undertow effect." We're under the water, struggling to reach the surface, and just as we break the surface and get a gasp of air, an undertow comes along and sucks us back under. Does that sound familiar?
We keep "getting ready" to go back to normal, to get beyond and move forward – – because that is what we are conditioned to do as humans. But it's important to remember that we're not back to where we started. That's what I think people's instinct may be right now. Like, "Oh, No, has everything that's happened been for nothing?!" No, not at all. We are much farther along than we were at the beginning of this, but it has also been a much longer and rougher ride than we expected.
LEARNED HELPLESSNESS
If we feel defeated often enough in our efforts to pursue freedom, creativity, expression or change, at some point our nervous system says, "I just can't keep doing this anymore." For example, the "getting ready to get ready" repeatedly. We learn, in a way, to be helpless. We learn to feel defeated. We remain in a state of anxiety and frustration. We learn to stay stuck. It's like muscle memory, or even a Pavlovian response. If you repeat a thing or respond to specific stimuli often enough, there is a conditioned memory response and behavior that becomes automatic.
It's okay not to be okay, as long as you're not giving up. DO NOT GIVE UP YOUR POWER. You are not powerless. Please don't let this pandemic define you. No one is You, and that is your superpower!
STOP WAITING TO EXHALE. BREATHE!!!
We all know what happens when you hold your breath for extended periods of time – – you deprive your body of oxygen. We NEED oxygen. And think about this: What has COVID attacked more than any other part of our bodies – our respiratory system. It has literally and figuratively sucked the life out of us, or tried to. It's been more than two years now. We have to exhale. We have to breathe.
If you missed part one, click here to review.
Categorized in: General