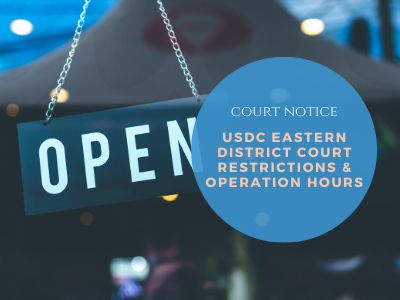 Effective Monday, June 14, 2021, the Robert T. Matsui and Robert E. Coyle United States Courthouses are open to the public from 7:00 a.m. – 5:00 p.m. daily.
Pursuant to General Order No. 621 Face Coverings are required in all Eastern District of California Courthouses in public spaces and in private agency space where six feet of physical distancing cannot be maintained.
The U.S. District Court for the Eastern District of California continues to closely monitor the national response to the Coronavirus Disease (COVID-19) and will be following guidance provided by the Administrative Office of the United States Courts (AO), the Centers for Disease Control and Prevention (CDC), and California Department of Public Health (CDPH).
Click here to learn more.
Categorized in: Court Notices