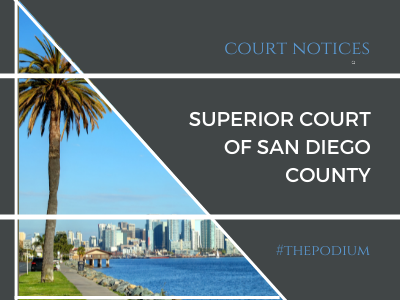 San Diego Superior Court COVID-19 Update
The San Diego Superior Court has restored additional in-person access following updated state and local public health guidance that allows for the relaxing of certain COVID-19 safety protocols. Public access has generally reverted to pre-pandemic levels while many of the recently introduced online and remote options remain available.
In accordance with state and local public health guidance, facial coverings are optional, but recommended, for all individuals. Face coverings may be required, regardless of vaccination status, in some areas within the courthouses.
Those who are not feeling well, exhibiting symptoms of COVID-19, or who are subject to an isolation/quarantine order are asked to stay home and seek assistance online, by telephone, or via mail. Individuals seeking emergency services who fall into any of these categories will be assisted outside the courthouse or provided with an alternative accommodation.
Click here to learn more.
Categorized in: Court Notices