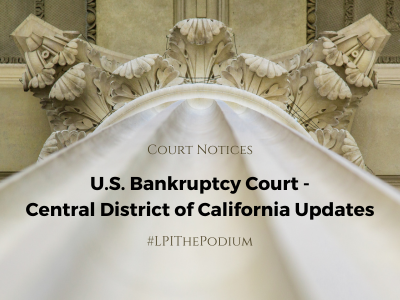 Zoom Video Hearing Guide and Training for Participants
Note: This one is a throwback posting but we thought we would share this information in the event anyone needs to learn about virtual appearances within this venue.
In order to facilitate court operations during the COVID-19 pandemic, the U.S. Bankruptcy Court for the Central District of California is providing judges the ability to conduct court proceedings remotely by videoconference, using the Zoom for Government® platform (referred to within this document as Zoom®). Participants are encouraged to review this guide and other available resources to familiarize themselves with Zoom®. This guide summarizes the basics of how a participant may use Zoom® to participate in a court hearing remotely. We hope this guide will assist you in using the Zoom® video platform to participate in court hearings.
Click here to access the training resources as well as the virtual backgrounds provided.
The Central Guide Information Sessions – Additional Dates
Additional dates are now available for LIVE informational sessions via Zoom on the new features of The Central Guide, how to navigate the new tool and more.
No registration is needed.
Did you miss a detail from a previous session that you would like to review, or do you want to revisit one of The Central Guide's new features? A recorded session of The Central Guide Informational Session is now available. Click here (link is external) to view the recorded session.
Click here to access this information on the court's website.
Click here to access the flyer for the virtual event scheduled for Monday, June 12, 2023.
Categorized in: Court Notices