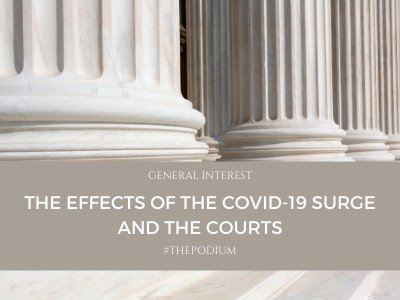 These days you cannot watch TV for more than five minutes without hearing something related to the COVID-19 variants, and the recent surge in cases. As weary as this news may make us, we should follow this news to help us manage our lives, and as it pertains to the work we do for the attorneys we support.
The U.S. District Court, Central District of California, recently announced that jury trials will be halted for three weeks due to the "alarming surge of COVID-19 cases," including inside its own courthouses. It is believed that due to the Omicron variant, conducting jury trials places court personnel, attorneys, parties, and prospective jurors at risk. The extension could be extended as necessary. The Central District is allowing some in-person proceedings, but participants are required to follow the CDC's guidance regarding masks. Judges and staff are required to be vaccinated.
The U.S. Court of Appeals for the Federal and Seventh Circuits have returned to remote-only oral argument. The District of Maryland has suspended jury trials. In the U.S. District Court for the Southern District of California, video and telephone conferences are authorized, but in-person proceedings can be held at a judge's discretion.
For more information regarding these developments, please check the full article at https://www.law.com/therecorder/2022/01/03/an-alarming-surge-of-covid-19-central-district-of-california-halts-jury-trials-for-3-weeks/?kw=%27An%20Alarming%20Surge%20of%20COVID-19%27:%20Central%20District%20of%20California%20Halts%20Jury%20Trials%20for%203%20Weeks&utm_source=email&utm_medium=enl&utm_campaign=newsroomupdate&utm_content=20220104&utm_term=ca&slreturn=20220006210733
Categorized in: General