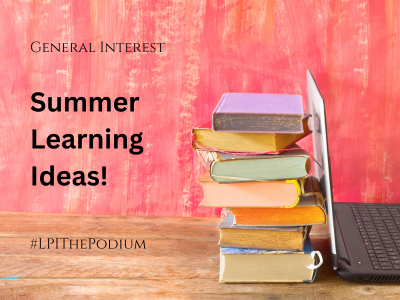 LPI offers Class Passes in the following amounts:
$325 for 12 classes
$775 for 30 classes
$1,000 for 50 classes
In addition to all the upcoming and amazing educational opportunities provided by LPI https://www.legalprofessionalsinc.org/webinars/#; LPI's On Demand webinars https://www.legalprofessionalsinc.org/recorded-webinars-for-sale/ and programs offered by other local association https://www.legalprofessionalsinc.org/local-association-events/ we wanted to let you know about some other resources to keep your brain busy over the summer.
Duolingo
This app is a "free, fun, and effective way to learn a language" which can be used online or downloaded to mobile devices. Duolingo offers 40 different languages including, Spanish French, Japanese, Hebrew, and Navajo. You can earn "gems" as you progress through the learning process, which you can trade for tools and special quests. You can also compete against other Duolingo users. Duolingo will also check your accent with its audio features.  As with all free apps, you will need to endure some ads; however, a paid, ad-free version is available, "Duolingo for a monthly fee of approximately $6.99.
I did use this app to help me in my Spanish studies and found it to be "fun and effective."
Hillsdale College
By creating a profile, Hillsdale College offers free programs in the following areas:
Politics
History
Literature
Philosophy and Religion
Economics
Mathematics and Science
The courses are self-paced. Each lecture runs for about 35 minutes and offers a study guide, a place to take notes while viewing, a discussion board, and a brief exam to help you review the lesson.
AARP
https://www.aarp.org/work/skills-builder/?cmp=KNC-DSO-WORKJOBS-SkillsBuilder-General-Free-16138-Bing-SKILLSBUILDER-LearningOpportunities-Phrase-NonBrand&gclid=70b3c155ab5e1e9ed4bba59e838de450&gclsrc=3p.ds&msclkid=70b3c155ab5e1e9ed4bba59e838de450&utm_source=bing&utm_medium=cpc&utm_campaign=WJ-SkillsBuilder-General-Free-NonBrand-Phrase&utm_term=free%20online%20learning&utm_content=Learning%20Opportunities
If you are already an AARP member, several of their online learning courses are free for your first class. If you are not an AARP member, they offer the first year of membership for only $12 when you sign up for an automatic annual membership renewal.
Some of the free courses include Microsoft Office Fundamental; Mastering Today's Remote Work; Personal Creativity for a Lifetime; and Nonprofit Fundamentals.
The basic educational classes range from $18 up to $60 and include such topics as Effective Business Writing; Social Media Marketing; and Effective Presentations; and several courses in the Digital Skills for the Office category.
If you are willing to invest more toward your Summer Learning, AARP also offers learning bundles and certificate programs that run from $200 up to about $500.
Categorized in: General