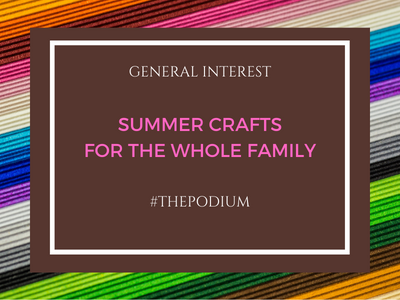 By Jessica Melton
Finally!  Summertime is here and the kids are home from school.  All. The. Time.  So, what is a parent going to do to keep them busy and out of trouble?  Aha!  How about some crafting ideas that the whole family can do!  Well, you are in luck, because here are four fun crafting ideas that do not take too much effort or supplies that the whole family will love.
Crafting Project #1: Painting Flower Pots
Why buy expensive flower pots in a hardware or plant nursery when you can create your own?  From smiley faces to animal prints, the possibilities are endless!  All you need are terra cotta pots (any size), some outdoor crafting paint, paint brushes, a sealant (if you want them to last for more than one year), and your imagination.
Tip #1: For easier cleanup, do this activity outside and line a table with newspapers or a one-time use plastic table cover.   
 Tip #2: You can also use craft sponges to paint shapes onto your pots.  Try ones that are already made into shapes or make your own!
Crafting Project #2: Noodle Necklaces
Every kid feels better about themselves when they look good.  Help them enhance their style by making noodle necklaces with them.  Simply grab some large dry noodles (preferably rigatoni), some non-toxic water-based paint, a paintbrush, and a long string of yarn (to fit the size of the necklace).  First, line a table with a plastic bag or newspaper (for easy cleanup).  Next, paint each noodle to your liking.  Set the noodles down to dry.  Once dry to the touch, take the yarn and string the painted noodles.  Tie each end of the yarn together into a knot.  Ta-da!  Now you and your kids are trendsetters!
Tip #1: If you do not have any yarn, you can always use dental floss.  Just double, triple, or quadruple the floss to make a more durable necklace.
Crafting Project # 3: Vacation Memory Wall
Can't ever think of what to do with those glorious vacation pictures that you take?  Here's an idea, create a memory wall with them.  First print (or order prints) of your favorite vacation memories (be it picturesque ocean scenes, funny family shots, etc.).  Then get some hanging frames.  Next, hang the frames in a design that you like.  You can do symmetrical, diamond-shaped, or any other combination you desire.  You can also add in some other framed art such as paintings, word signs, or posters.  And when you get tired of those pictures, you can swap them out for new ones since you will already have the hooks on the walls!
Tip #1:  For a modern look, I really like frames that have a larger frame and a larger matting, so it makes the pictures look bigger than they actually are.  For a more streamlined look, stick with black frames with white matting. 
 Tip #2:  Try doing assorted sizes of the pictures to add in some texture.  Also, adding earthquake putty under the bottom of the pictures will increase the stability of the framed piece and prevent it from falling if an earthquake were to occur.
Crafting Project #4: Baking (and Decorating) Cookies
Who says decorating cookies is just for the holidays?  I say it's always great to bring out your inner cookie artist!  Simply whip up a batch of your favorite cookie dough (or get some from a tube from the grocery store – there's no shame in that!) and add any (or all) of the following on top: some chocolate-coated candies, peanuts (or any other nut), peanut butter filled cups, chocolate chips, golden or regular raisins, sprinkles, or frosting, and let your kids' imagination go wild!  Then bake according to the directions and enjoy!  Yum.
Tip #1:  For another activity (and to teach your kids about sharing), make up goodie bags with some of the decorated cookies for your neighbors as a "happy summer" surprise.  Plus, the kids can make up greeting cards with pictures for each of the neighbors to go with the cookies.  It is a win-win activity!
Tip #2: Bake the cookies on parchment paper.  For territorial kids, have each child write their initials on the parchment paper so everyone knows which cookies are theirs.
Categorized in: General