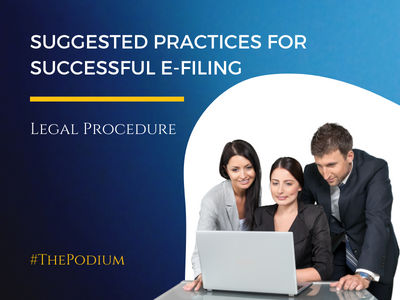 If you are working in litigation, you have likely been filing pleadings electronically for some time.  Whether you are filing in State Court, Federal Court, Bankruptcy Court or one of the Appellate Courts, there are some practices that will ensure the success of your e-filing.
Although in most cases, the deadline is midnight, it is wise to begin well before 11:00 p.m.  Allowing plenty of time to upload the documents will eliminate the stress caused by the ticking of the clock.  It also will allow time to be sure that your pdf files are text searchable and that those documents with exhibits are bookmarked if necessary.
Once your documents are ready to go, a consistent naming convention makes it easy to locate the documents when you are ready to actually upload the documents to the Court's system.  This is especially important when you are filing a motion or opposition to a motion where you are filing more than one document in the transaction.  Starting your pdf name with the date, followed by client name followed by the type of document makes it easy to locate exactly which document you are filing.  For example, 2022-02-03 Smith CMC Statement is a concise document name.
Where you have a Motion with supporting documents, it is helpful to create a folder and then put the pdf files in that folder.  Using the naming convention described above, you could title the folder 2022-02-03 Smith Motion for Summary Judgment.  Placing the pdfs in a folder makes for easy retrieval during the actual uploading of documents.
Never is it more crucial to have a clear naming convention for your documents than when you are filing unredacted documents containing confidential information under seal.  At the end of the name of your document add Redacted or Unredacted so that you know which version you are filing publicly.
These are just a few tips that will make your e-filing go smoothly.
Categorized in: Legal Procedure