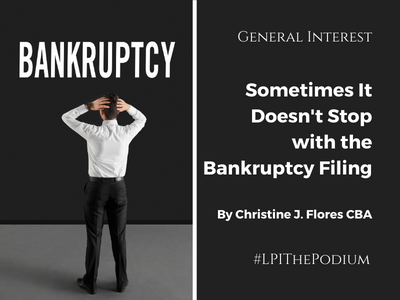 By Christine J. Flores, CBA
Last month I highlighted the case of In re Girardi Keese, filed in the U.S. Bankruptcy Court for the Central District of California. This once-prominent law firm sought bankruptcy court protection after having spent over $48 million on nonbusiness-related expenses. The firm had also stolen millions from its clients, and the firm's former CFO was arrested on suspicion of wire fraud.
A recent Law360 article reveals that Tom Girardi's connections at the State Bar of California tainted investigations into his misconduct, as he gave bar employees, board members and their relatives unreported jobs, money and gifts. Eight investigations into Mr. Girardi's conduct were closed by State Bar employees who had conflicts of interest, and in some cases, those employees were improperly involved in cases sent to outside prosecutors to avoid such conflicts. Mistakes and procedural failings contributed to the State Bar's failure in investigating more than 100 complaints against Mr. Girardi over the past forty years.
One of the State Bar's top investigators had been given over $1 million in cash and gifts from Mr. Girardi, as well as the use of a firm credit card, in return for the help provided to Mr. Girardi.
Federal Grand Juries in Los Angeles and Chicago indicted Mr. Girardi on multiple counts of wire fraud this year. The agency recently made public investigative reports examining the alleged conflicts of interest and shortcomings. The Blog will be updated as the story unfolds.
In the meantime, here are a few summaries of bankruptcy cases filed by well-known individuals.
Frank Baum (1856-1919), an author of children's books, was best known for writing "The Wonderful Wizard of Oz" in 1900. The book was an immediate success and sold about 90,000 copies in the first year. Baum put together an expensive traveling slide show and orchestra based upon the Wizard of Oz, Fairylogue and Radio-Plays which was a financial failure. Baum declared bankruptcy in 1911. In his bankruptcy petition he listed debts of $12,600. Most of this debt was related to the Fairylogue project, although the Baum family had been living largely on credit in the years leading up to the bankruptcy. His listed assets totaled less than $100 – two suits, eleven second-hand reference books and a five-year-old typewriter. Since these items were used by him to earn his living, he declared them exempt. Mr. Baum had learned a valuable financial lesson due to his earlier difficulties. He transferred his main assets to his wife, Maud Gage Baum, so that these would also be exempt from the bankruptcy proceeding. These assets included his royalties from his books and the couple's new home in Hollywood, California. In an effort to resolve his debts, Mr. Baum transferred the royalties to many of his books, including The Wonderful Wizard of Oz, to his friend and creditor Harrison Rountree. Mr. Rountree was made the trustee of Mr. Baum's estate. It was not until 1932 that Maud Baum regained the rights to her husband's most famous and popular work.
Milton Snavely Hershey (1857-1945), the founder of Hershey's chocolate, was one of America's wealthiest and successful entrepreneurs. After starting four candy companies that failed due to inadequate funding and too much competition, he filed for bankruptcy before starting what is now Hershey's Foods Corp. Mr. Hershey had only a fourth-grade education, but was certain he could make a good product that the public would want to purchase. At the young age of 19, Mr. Hershey started his first caramel business. After several unsuccessful business ventures in New York, Denver and Chicago, Milton Hershey finally returned to his native Lancaster County. He built up the Lancaster Caramel Company, which was a tremendous success. Mr. Hershey then applied what he knew about caramel to chocolates. After finally finding the right recipe, he created the Hershey's milk chocolate bar. Today, Hershey's Food Corporation sells almost $5 billion a year and is the world's largest chocolate manufacturing plant. Mr. Hershey's fifth attempt was clearly successful. It just proves that success can be sweet!
Phineas Taylor Barnum (P.T. Barnum) (1810-1891) P. T. Barnum was considered the great American showman. In 1871 he filed bankruptcy because he had losses from unsuccessful businesses. He had borrowed much more money than he could pay back, and ended up owing almost $500,000 to creditors. Mr. Barnum was able to repay all of his creditors through the bankruptcy process. After bankruptcy, he started his famous circus, "The Greatest Show on Earth" which merged with the circus run by James A. Bailey. The circus which was called Barnum and Bailey performed for 146 years until it closed in 2017.
Categorized in: General