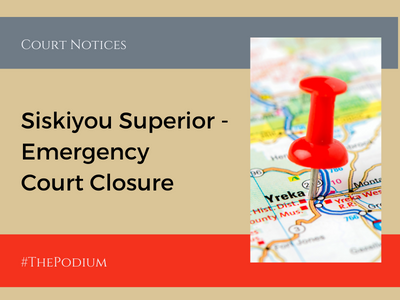 This is due to the continued danger of the McKinney Fire and no containment at this time.  The Court will reopen on Monday, August 8, 2022, barring any new evacuation developments with the McKinney Fire.  If you had or have a court hearing on Aug 1, 2, 3, 4, or 5, 2022, please be advised that those hearings will be continued to a future date, and you will be notified of that date.
Note: Due to the timing of this posting, the closure order may have been extended due to the wildfire in Northern California. Be sure to check the court's website to stay up to date on the latest announcements.
Click here to learn more.
Click here to access the homepage of the court's website.
Categorized in: Court Notices