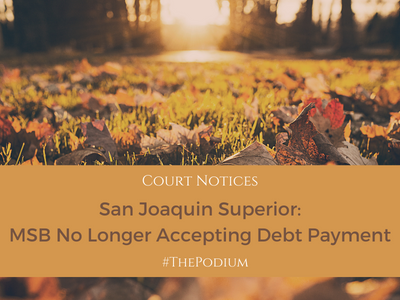 Starting November 1, 2022, Municipal Services Bureau (MSB) will no longer be accepting payments for a court-ordered debt.  Payments are to be made directly to the Court.  During this transition, the Court is providing MSB clients a one-time 60-day grace period to make their current payment. No late fees will be charged to MSB clients during November and December 2022.
MSB clients need to continue making their agreed-upon monthly payments. Checks, money orders, or cashier's checks should be made payable to San Joaquin County Superior Court.
Click here to learn more.
Categorized in: Court Notices