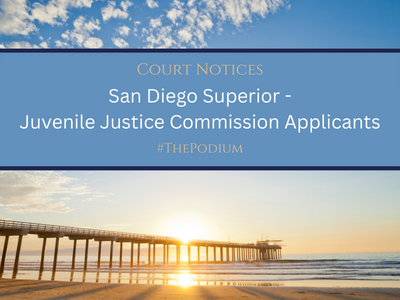 The San Diego Superior Court is seeking applicants to serve on the San Diego County Juvenile Justice Commission (JJC). The Juvenile Justice Commission is a state-mandated, court-appointed citizens' commission. Its purpose is to inquire into the administration of juvenile court law in San Diego County, to provide leadership for citizen action, and to promote an effective juvenile justice system operated in an environment of credibility, dignity, fairness, and respect for the youth of San Diego County.
Interested applicants should become familiar with the mandated and elective activities of the Juvenile Justice Commission of San Diego County prior to submitting an application to the JJC's administrative officer.
Click here to learn more.
Categorized in: Court Notices