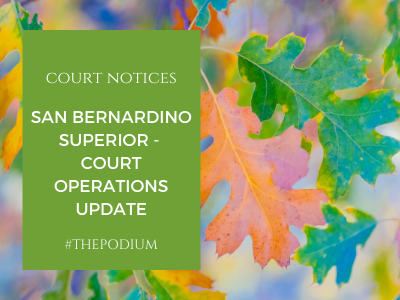 Last updated on: 1/6/2022 – 5:30 pm
Please check this website frequently, as court services may change frequently in response to the COVID-19 pandemic.
DO NOT COME TO COURT IF YOU ARE FEELING ILL, HAVE COVID-19, OR ARE UNVACCINATED AND HAVE BEEN EXPOSED TO SOMEONE WITH COVID-19.
By following the guidelines provided by Governor Gavin Newsom and orders by the San Bernardino County Public Health Officer, SBSC has been able to restore most services, please check the pandemic operations roadmap for each court location and case type for specific details (See Chart Below). The Court encourages all users to access remote service options to help prevent the spread of COVID-19. Remote services include the ability to submit filings by mail, fax, dropbox, TurboCourt, and outside walk-up windows available at most court locations. Payments can also be made online or via phone.
Click here to review the new updates.
Categorized in: Court Notices