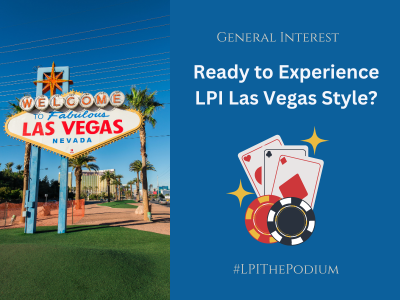 The Annual Conference Committee and LPI Leadership Team are ready to welcome you to Las Vegas!
For your convenience, the conference registration desk and all of the meeting spaces are located on the 12th floor. Elevators to the 12th-floor meeting spaces are accessed on the first-floor casino area. They are easy to find and there are plenty of elevator cars.
On the first floor, there is a coffee shop by the elevators offering coffee, tea, blended drinks, smoothies, and snacks. A small store/gift shop on the first floor also carries snacks, beverages, and basic toiletry items you may have forgotten to pack. You will also find American Coney Island (hot dogs), and a 24-hour McDonald's restaurant on the first floor. American Coney Island is outside of the hotel but attached to it. There is no room service, and Door Dash service can be retrieved by meeting the delivery driver in the valet drop-off area.
The "Long Bar" on the first floor is very cool, and claims to be the longest bar in Las Vegas.
On the second floor, you'll find Andiamo's Steakhouse, offering fine Italian dining and "American prime." Also on the second floor is Bacon Nation (yep, it's all about bacon), which is open 24 hours.
Taxis/Ubers/Lyfts are almost always stationed in or around the hotel and are very easy to access. Taxi/Uber/Lyft from the airport to the D Hotel is easy to access, and costs anywhere from $35 to $50. A taxi ride to the Las Vegas Strip is about a 20-minute ride unless it is during prime time on the weekends, then add another 10 minutes or more. The average taxi cost from the D Hotel to the Strip is about $30.
The D Hotel is located on Fremont Street and is a VERY HAPPENING PLACE! One of the cool features is the covered "electronic sky" that changes throughout the day, and there is plenty to do in and around the conference site. On Fremont Street/close to the hotel:
Walgreens
Steak-n-Shake
Dunkin Donuts
White Castle Burgers
Steak Houses
Gift Shops
Other Casinos – Circa; Golden Nugget; Four Queens; etc.
Zip Lining down Fremont Street
Live Music/Entertainment
Mob Museum
Note that Las Vegas does not have a "Last Call" ordinance, which means that bars are open 24/7, people are out 24/7, and the activity in and around the hotel is 24/7.
Come prepared to take advantage of the six educational workshops happening over the weekend, connect, network, and take care of the business of the corporation. Most of all, come prepared to celebrate 89 years of educating California's legal support professionals. Let's do it – – Las Vegas style!
Categorized in: General