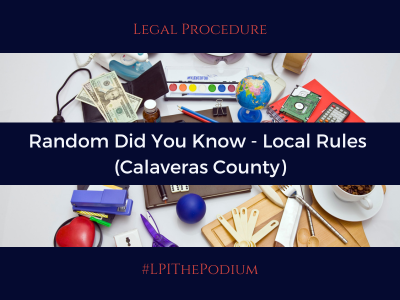 Did You Know?
Rule 2.1 Filing and Format of Documents (b)Except where leave of court has been granted, the clerk shall not accept for filing any papers, documents, exhibits, or dividers presented on pink or yellow paper.
Rule 2.12 Bulky and Hazardous Waste The Executive Officer/Clerk of the Calaveras County Court will not accept or retain exhibits that are bulky1, heavy2, or designated as hazardous waste material3.
1) "bulky" objects are those exceeding 1 cubic foot in volume.
2) "heavy" objects are those exceeding 3 lbs. by weight.
3) All controlled substances listed in Health & Safety Code Sections 11054, 11055, 11056, 11057, and 11058 are considered to be hazardous waste material.
Rule 4.2 Continuances No criminal matter will be continued, even by stipulation of the parties, except pursuant to Penal Code § 1050.
Rule 4.12    Mandatory Trial Readiness Conferences For a jury trial scheduled to occur in Department 3, the Court shall schedule a mandatory Trial Readiness in Department 2 the Thursday prior to the jury trial.
Rule 5.6   Hearings on Family Law Motions (a) Time Limit.  All hearings on the Family Law motion calendar are normally limited to ten (10) minutes or less.  The transfer of a hearing from the motion calendar to a longer hearing calendar shall be at the sole discretion of the court.
Rule 5.12   Child Custody Evaluations All child custody and visitation evaluations must be authorized by court order pursuant to Evidence Code § 730 and Family Code § 3111.  Generally, the court will refuse to consider evaluations that have not been approved and ordered by the court.
Rule 5.54.6 Calendar Priority In light of the fact that Special Advocates are rendering a volunteer service to children, non-minor dependents, or wards who are subject to the jurisdiction of the juvenile court and the Court, matters on which they appear should be granted priority on the Court's calendar whenever possible.
Categorized in: Legal Procedure