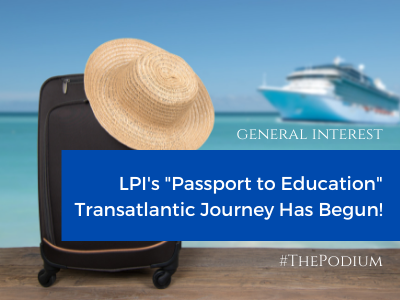 The "S.S. LPI" embarked on its maiden voyage August 27-29, 2021, in Santa Clara, California, for a year-long Transatlantic educational and cultural "cruise." Members were able to get the first stamp on their passport during LPI's First Quarterly Conference at the Santa Clara Marriott, where our destination was the Mexican Riviera. Santa Clara County LPA did an incredible job of launching us on this journey, even working with our Marketing Committee to create a commemorative t-shirt listing all four destinations. It's not too late to get your commemorative shirt – just go to the LPI Store on our website.
LPI's Second Quarterly Conference will see the S.S. LPI continue its educational journey to the historic United Kingdom from our headquarters at The Town & Country Resort in San Diego, California, November 19-21, 2021. LPI will host this conference, with San Diego LSA acting as co-hosts and local ambassadors.
Our Third Quarterly Conference will take place February 25-27, 2022, at the Stockton Hilton, in Stockton, California, where the cruise will continue to exotic South America. LPI will again be the conference hosts, with local ambassadors from Stockton-San Joaquin County LPA.
The cruise will make its final stop in beautiful Italy for LPI's 88th Annual Conference, where we will return to the Santa Clara Marriott, May 20-22, 2022. This conference will be hosted by Santa Clara County LPA and will be a historical moment in our corporation's history as Rod Cardinale, Jr., will be the first male to be installed as President of LPI.
Every stop on the cruise will feature education from our Legal Specialization Sections and the Continuing Education Council, as well as cultural information on each destination. Remember to get your passport stamped at every port of call, as all fully stamped passports at the end of the voyage will be entered into a drawing for a fabulous vacation package!
Pack your best cruise wear, book your ticket, be sure to grab your passport, and get ready to make wonderful memories aboard the S.S. LPI! See you on board!
Categorized in: General