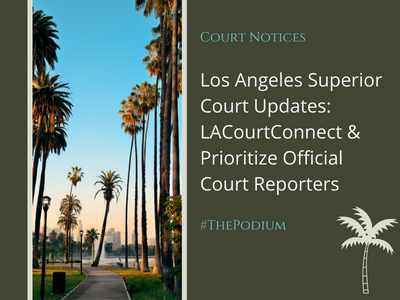 There are two updates for LASC:
Effective November 14, the Court Will Prioritize Official Court Reporters for Criminal Felony, Juvenile Cases as Sevre Staffing Shortages Persist Despite New State Funding
Court Reporters Currently Assigned to Family Law, Probate and Writs and Receiver Matters will be Reassigned to Cover Statutorily Mandated Case Types
Despite significant increases in trial court funding designated to hire court reporters, a statewide court reporter shortage requires the Court to shift its court reporter workforce from family law and probate cases and matters assigned to the writs and receiver departments to departments hearing criminal felony and juvenile matters where the law requires the court to provide an official court reporter.
Effective Monday, November 14, 2022, the Court will no longer provide official court reporters in family law and probate matters and in the writs and receiver departments due to a continually shrinking workforce of official court reporters, a staffing shortage that mirrors nationwide and California trends, among other factors. In Los Angeles County, the number of court reporters leaving court service continues to significantly outpace the number of new court reporters entering court service.
Click here to learn more.
LACourtConnect Expanding to Include Traffic, Infraction Trials Beginning September 6
Registration Begins After 5 p.m. on September 2
Effective September 6, LACourtConnect (LACC), the Court's free remote appearance technology, will be available for remote courtroom appearances for traffic and infraction trials, making video appearances available for all traffic hearing types. Registration begins after 5 p.m. on Friday, September 2, for trials on or after September 6.
Click here to learn more.
Categorized in: Court Notices