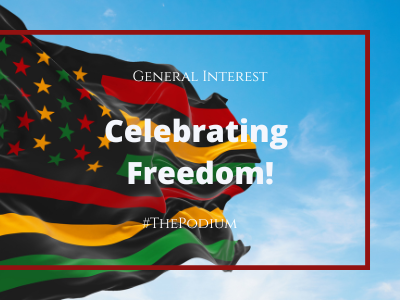 Since many firms are observing Juneteenth by giving employees a paid holiday, the Podium staff thought it would be good to look into what this holiday is actually celebrating.
Juneteenth is a celebration of the ending of slavery in the United States, marking the emancipation of enslaved African-Americans. It is also often observed as a celebration of African-American culture. The name Juneteenth is a combination of the words June and nineteenth. It is now recognized as a national holiday.
Freedom came on June 19, 1865, for more than 250,000 enslaved black people in Texas when approximately 2,000 Union troops arrived in Galveston Bay and announced that they were free by executive decree. President Abraham Lincoln's Emancipation Proclamation had actually gone into effect more than two years earlier, on January 1, 1863. In fact, President Lincoln was assassinated a few months earlier, in April 1865.
There are varying accounts of why it took more than two years for the news of the abolition of slavery to reach Texas. One story claims that a messenger bearing the news of the executive decree was murdered on his way. It has also been noted that Texas was a Confederate state until 1865, when Robert E. Lee surrendered to the Union Army. The state would not have enforced the Emancipation Proclamation until the Union took control. There is also speculation that many slave owners in Texas intentionally withheld the information from the slaves in order to keep their labor force intact.
Juneteenth is the oldest nationally celebrated commemoration of the ending of slavery in the United States. (www.Juneteenth.com) It has also become a day of remembrance and an opportunity for African-Americans to honor their history and celebrate black culture. Over the years, former slaves and their families have continued to celebrate their freedom with annual Juneteenth celebrations that featured former slaves delivering inspirational speeches and reading from the Emancipation Proclamation.
To read more about Juneteenth, our newest national holiday, what it means and how it has evolved, visit www.Juneteenth.com. There are also several interesting articles on the subject accessible by searching "Juneteenth" on Google.
Categorized in: General