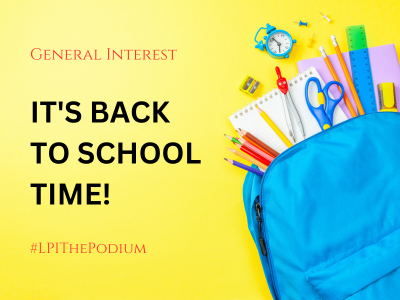 By Christine J. Flores, CBA
If the children in your family have not already returned to school, they soon will be doing so.  When I was raising my daughters, back to school shopping was a major expedition.  Clothes, shoes, backpacks and school supplies!  Back when my daughters were in school, there weren't as many online choices, so starting early was the key to success.  So, if you haven't already started getting those young family members ready for school, here are a few pointers.
Most of us adopt a more leisurely schedule during most of the summer months.  We stay up late; sleep in; and have a lot of fun.  To make the transition a little easier, consider getting back into the school routine at least a couple of weeks before school actually starts.  Re-establish bedtime and the time to get up as if everyone were already back to school.  Consider limiting screen time – whether it's TV, video games or YouTube videos.
Make a list of what you know the students will need.  There are some obvious choices – new shoes, clothing items, a coat and perhaps a sweatshirt.  Many of these items are on sale at this time of the year, so you don't need to break the bank to outfit the young people for school.  Target is a great place for school supplies – whether you shop online for curbside pickup, or you actually do a Target Run!  Amazon is always a good option and if you're running short on time, Prime members can enjoy one or two-day shipping.  Your local mall or shopping center likely has family-friendly stores like Kohl's or JC Penney with plenty of bargains to be had.
There are many options when it comes to Thrift Store type shopping.  Goodwill and St. Vincent DePaul are usually well-stocked and if you don't have your heart set on one particular brand or item, you may find some good deals on children's clothing, books, notebooks and other supplies that are either new or gently used.  There are a number of thrift stores that benefit hospice care organizations, St. Jude or Shriner's that will stretch your shopping dollars and allow you to support a worthy cause.
As we prepare our young family members to return to school, don't forget to avail yourself of an opportunity to learn something new – whether it be a foreign language, a new skill, or a workshop or webinar to enhance your professional skills.  Never stop learning – it's good for the mind!
Categorized in: General